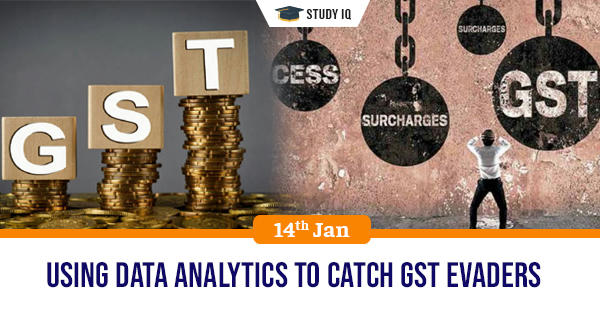 Using data analytics to catch GST evaders
Date: 14 January 2020
Tags: IT, Mobile & Computers
Issue
The Department of Revenue has identified as many as 931 cases of fraudulent GST (Goods and Services Tax) refund claims through data analytics.
Background
Identified taxpayers, who had purchased goods from tax-evading, non-filers, would face verification and scrutiny as necessary.
Details
It was also through data analytics that recently, GST formations had identified a few exporters with 'star' status who were fraudulently availing IGST refund and were untraceable at their registered addresses.

The GST data analytics wing had been able to identify all such cases involving fake invoicing and fraudulent tax credits, which have been encashed through the facility of IGST refunds.
Data Analytics
Data analysis is a process of inspecting, cleansing, transforming and modeling data with the goal of discovering useful information, informing conclusion and supporting decision-making. Data integration is a precursor to data analysis,[according to whom?] and data analysis is closely linked[how?] to data visualization and data dissemination.
Applications
Several cities all over the world have employed predictive analysis in predicting areas that would likely witness a surge in crime with the use of geographical data and historical data.
Using thye past travel records to predict and analyse the most suitable and safe path for movement of people in a large area.
banks learning to divide and conquer data from their customers' profiles, recent expenditure and other significant information that were made available to them
This made it easy for them to analyze and infer if there was any probability of customers defaulting.
These days, analytical software is used for detecting the various forms of fraudulent claims. Risky claims are detected by red flag indicators which can be examined. It is very essential to bring such claims to the attention of administrators, due to the manner at which automation is improving claims processing efficiency.
Machine and instrument data use has risen drastically so as to optimize and track treatment, patient flow as well as the use of equipment in hospitals.
Data analytics applications would target where taxpayers' money would have a major impact on and the kind of work that would be adequate for it.