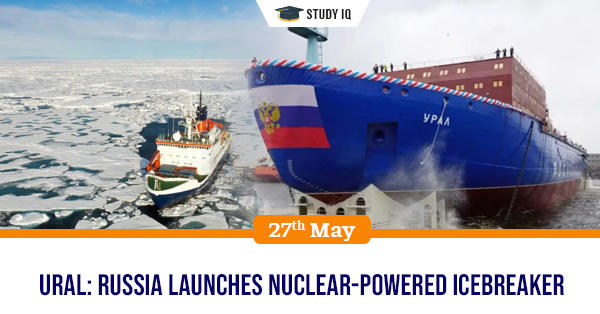 Ural: Russia launches nuclear-powered icebreaker
Date: 27 May 2019
Tags: Energy
Russia has launched nuclear-powered icebreaker named Ural as part of an ambitious Project 22220Icebreaker Project to improve its ability to tap Arctic's commercial potential. It will enter into service in 2022 after Arktika and Sibir enter into service.
Ural
It is third nuclear-powered icebreaker in series of three such ships (Arktika and Sibir) built by Russia's state owned nuclear energy corporation Rosatom under ambition Project 22220Icebreaker.

It equipped with two RITM-200 nuclear reactors, with thermal capacity of 175 MW each. I

t has dual-draft design that allows its applicability in Arctic waters and in estuaries of polar rivers.

It is 173.3 meters long and 34 meters wide. It has displacement capacity of 33540 metric tons. It can break through 3 metres (13 feet) thick ice.

It is name after

Ural mountain range that runs approximately from north to south through western Russia, from coast of Arctic Ocean to Ural River and northwestern Kazakhstan.
Nuclear-powered icebreaker
It is nuclear-powered ship built for breaking waters covered with ice. It primarily helps ships to navigate in the frozen waterways in winters especially in Arctic region. It is much more powerful than their diesel-powered icebreakers. Russia is only country constructing nuclear-powered icebreakers.
Project 22220Icebreaker
Under it, Russia is building three nuclear-powered icebreakers. These icebreakers are meant to be largest and most powerful icebreakers in the world. They are being built as part of Russia's sole purpose of renewing and expanding its fleet of the vessels in order to improve its ability to tap Arctic's commercial potential, what it calls the Northern Sea Route (NSR) to make it navigable throughout year.