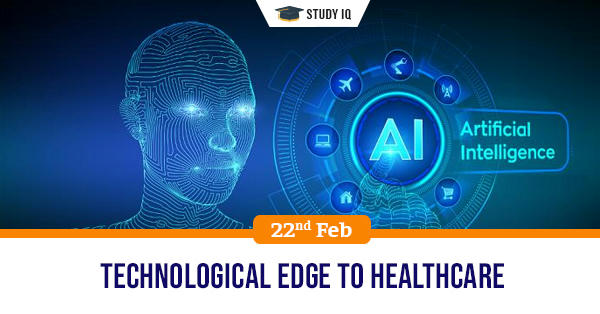 Technological edge to healthcare
Date: 22 February 2020
Tags: Fourth Industrial Revolution
Issue
Healthcare is becoming increasingly connected, but also increasingly complex. While it poses an opportunity for medical professionals to learn more than before, the enormous amount of medical information can overwhelm the decision-making processes. Use of Artificial Intelligence(AI) can help handle this enormous data.
Background
Typical applications of AI in healthcare fall in the categories of diagnosis processes, treatment plan development, drug development, personalised medicine, patient monitoring, process automation, robotic surgery and clinical trials.
Details
Data from different sources are fed into a system. With the use of algorithms, programs and systems to simulate human intelligence, AI can analyse big data sets.

These data sets can be from clinician's notes, reports from a patient's file, medical research publications, and clinical trial outcomes. In a matter of seconds, it can create an actionable gist of all, for a particular clinician or a group to review.

In pharmaceuticals, AI and machine learning use data sets and algorithms to model various scenarios in the drug-discovery process.

This modelling is used to arrive at a predictive hypothesis much faster than the traditional trial-and-error method, which results in much shorter time for creating proof of concepts.

Some important aspects of computational systems are that they can perform repetitive tasks without feeling bored or fatigued and can analyse billions of data bytes in a matter of seconds.

AI systems can bring in better standardisation of processes, and therefore subjectivity in interpreting information will be reduced.
Applications of AI in healthcare
There are AI systems already in operation that have demonstrated the ability to identify sight-threatening conditions with equal accuracy to human ophthalmologists.

There are those which can scan a human chest X-ray faster than a medical professional can, and detect a small tumour or an early onset of pneumonia.

Some trained neural networks can interpret pathology images of tumours at a success rate of detection upwards of 90%, compared to an expert pathologist.

AI-assisted robotic surgery, where robots are able to analyse pre-op medical data and guide a surgeon's instrument during surgery, ensures patients develop fewer complications than otherwise.

The auto diagnosis tool is an AI-powered tool that runs on actual diagnostic tests results and provides probable risks factors. Additionally, it also suggests users change their lifestyle by recommending diet and exercise plans.
Advantages
The biggest impact of using AI is that it can significantly improve efficiency, while reducing wastage and costs.

In a resource-constrained environment with a low doctor-patient ratio, AI has the potential to deliver remote medicine and create virtual access in an effective manner.

Healthcare organisations can plan policies, guidelines, strategies and infrastructure to address health needs in a precise manner, thereby optimising the resources and delivery.

The State can prioritise plans, budgetary allotments with greater understanding and in optimal utilisation.
AI in healthcare can help to leverage technology to deploy efficient, impactful interventions at exactly the right moment in a patient's care.