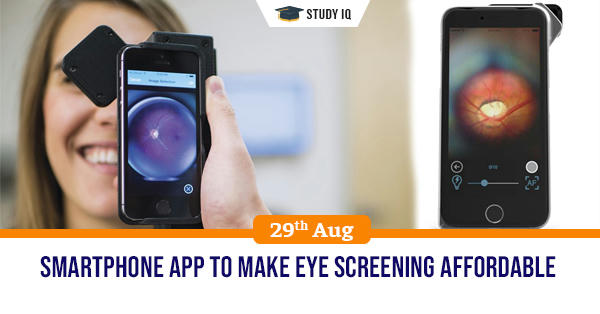 Smartphone app to make eye screening affordable
Date: 29 August 2019
Tags: IT, Mobile & Computers
Issue
Engineering students from a college affiliated to Jawaharlal Nehru Technological University (JNTU), Hyderabad, have developed a device and mobile app called iNethra to make vision screening easy, accessible and affordable.
Background
A vision screening, also called an eye test, is a brief exam that looks for potential vision problems and eye disorders. Vision screenings are often done by primary care providers.
Details
iNethra, the product, comprises of a handy, stick-like device with a lens on one end and connected to a smart phone camera on the other side.

While this helps in clicking the retinal image of the patients, the mobile app helps in sharing and receiving information related to the eye condition.

The clicked images are uploaded to the app for the doctor to access and analyse them.

There is a provision in the app for the doctor to note details about the eye condition, provide tips and if required refer them to hospitals. This will improvise the device and cut down the costs.

Initially, the app will be based on B2B (business-to-business) model under which partner eye clinics would approach patients coming to public health centres.
Eye related problems
Vision screening is most often used to check for possible vision problems in children. The most common eye disorders in children include:
Amblyopia, also known as lazy eye. Children with amblyopia have blurry or reduced vision in one eye.

Strabismus, also known as crossed eyes. In this disorder, the eyes don't line up right and point in different directions.
Other eye problems:
Nearsightedness (myopia), a condition that makes far away things look blurry

Farsightedness (hyperopia), a condition that makes close-up things look blurry

Astigmatism, a condition that makes both close-up and far-away things look blurry