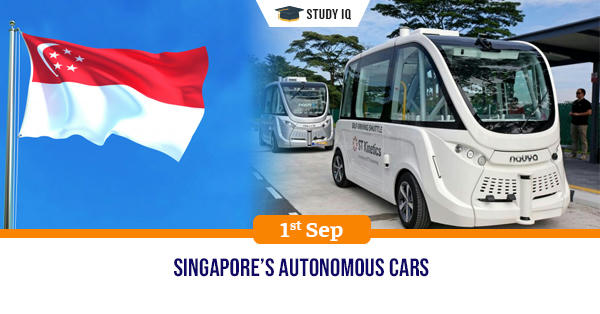 Singapore's autonomous cars
Date: 01 September 2019
Tags: IT, Mobile & Computers
Issue
The first autonomous public bus service in Singapore will be launched in three districts of Singapore's Innovation District where driver-less buses and shuttles will be used for off-peak and on-demand commuting by 2022.
Background
Autonomous vehicles are driver less vehicles and the ones being designed by ST Engineering are 100 percent electric. These buses will be equipped with a multi-sensor technology that will optimise navigation and safety features.
Details
This will be the island nation's first on-demand autonomous shuttle vehicle trial since autonomous testing of vehicles began in June 2018.

People visiting the area will be able to hail an autonomous shuttle using the "Ride Now Sentosa" mobile application free of charge.

As a precautionary measure, on every vehicle, a "safety driver" will be present who can take charge of the vehicle if the need arises.

The vehicle fault system will alert the safety driver if it detects any faults in the system. Road users and pedestrians will be intimated with electric signage telling them that the vehicles are driverless.

The AVs are equipped with collision & obstacle avoidance and overtaking features, remote control, radar, LiDAR (Light detection and ranging), odometry, computer vision and 360-degree sensors. They also have embedded cybersecurity features that protect the vehicles from intrusion and deter hacking.

The AVs' charge ranges from 50 km to 150 km per charge depending on the operating scenario.
Autonomous vehicles readiness index
The "Autonomous Vehicles Readiness Index", prepared by KPMG, has ranked 25 countries based on their preparedness for autonomous vehicles.

The report assesses countries based on 25 variables. These four pillars are – policy and legislation, consumer acceptance, infrastructure and technology, and innovation.