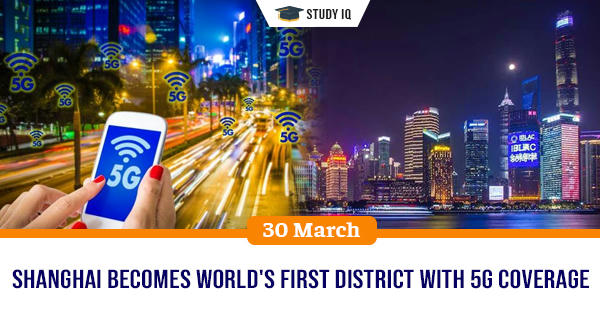 Shanghai becomes world's first district with 5G coverage
Date: 30 March 2019
Tags: IT, Mobile & Computers
Shanghai claimed that it has become first district in the world using both 5G coverage and broadband gigabit network. Trial runs of 5G network service, backed by Chinese state-run telecom carrier China Mobile was officially started in Shanghai's Hongkou. To make 5G service available to people, 5G base stations have been deployed over the last three months across the district to ensure full coverage. When fully operational, subscribers will be able avail of 5G service without having to upgrade their SIM cards
5G
5G is the next generation of cellular technology with download speeds that are 10 to 100 times faster than 4G LTE networks.

It is latest wireless communication technology based on third-generation partnership project (3GPP). It succeeds 4G (LTE-A, WiMax), 3G (UMTS, LTE) and 2G (GSM) systems.

It will offer far greater upload and download speed i.e. 100 times faster internet data speed than current 4G networks.

It unique feature are high data rate, reduced latency, energy saving, cost reduction, higher system capacity and massive device connectivity.

It will expand broadband wireless services beyond mobile internet to IoT and critical communications segment and cater high speed network connectivity for augmented reality (AR)/virtual reality (VR).