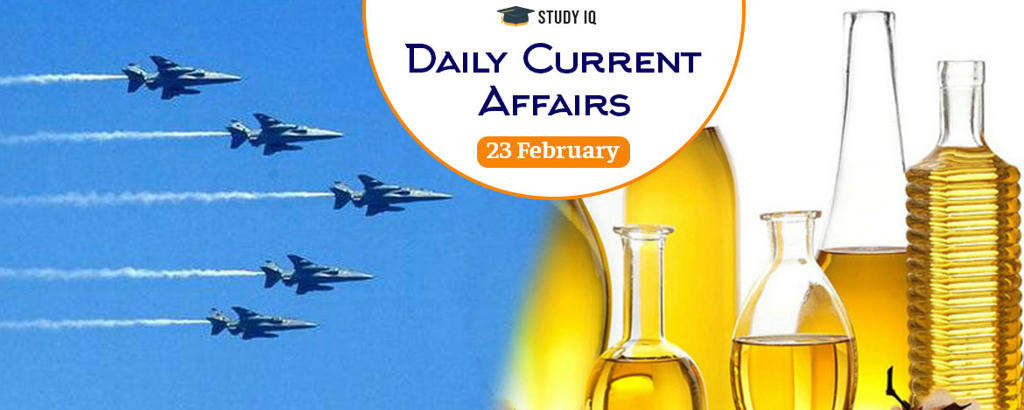 Scientists convert used edible oil into Bio-ATF
Date: 23 February 2019
Tags: Energy
Scientists from Dehradun-based CSIR-Indian Institute of Petroleum (IIP) have successfully finished pilot test to convert used cooking oil into bio-aviation turbine fuel (Bio-ATF). This bio-ATF derived from edible oil can be blended with conventional ATF and used as aircraft fuel. It is yet to be tested on flight.
Key Facts
Bio-ATF production is possible from used cooking oil as the chemical composition of used cooking oil is identical to other plant-based oils that have been converted to Bio-ATF.

It is very similar to Bio-ATF derived from jatropha oil which was recently used to run India's first first-ever environment friendly biofuel powered flight between Dehradun and Delhi.

For this pilot test, CSIR-IIP had collected used cooking oil from caterers and hotels in Dehradun. It has now set platform for commercial use of this technology.
Significance
Reduce re-use of cooking oil in food industry will have positive public health outcomes.

Moreover, its conversion into Bio-ATF will help aviation sector reduce its carbon footprint.

It will also help to Indian AirForce (IAF) and civil aviation sector to save fuel bill.
RUCO initiative
The test of converting used cooking oil into Bio-ATF assumes importance as Food Safety and Standards Authority of India (FSSAI) has launched Repurpose Cooking Oil (RUCO) initiative to collect and convert used cooking oil into bio-fuel.

FSSAI has identified as many as 64 companies in 101 locations across the country for RUCO initiative. FSSAI estimates that by 2020, it will be possible to recover about 220 crore litres of used cooking oil for conversion into bio-fuel.