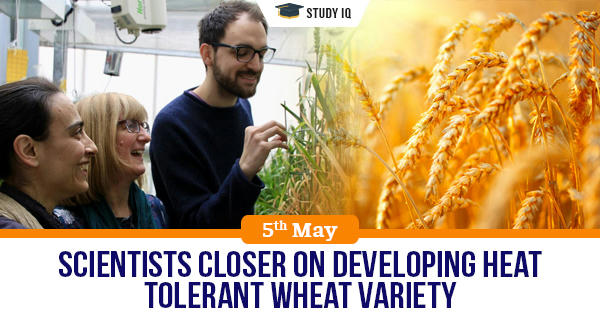 Scientists closer on developing heat tolerant wheat variety
Date: 05 May 2020
Tags: Biotechnology
Issue
Researchers working on molecular-level responses in crops have taken a step closer to their goal of producing heat-tolerant wheat.
Background
Plants have Rubisco activase, or Rca for short, that tells the plant's energy-producing enzyme (Rubisco) to kick on when the sun is shining and signals it to stop when the leaf is deprived of light to conserve energy.
Details
Swapping just one molecular building block out of 380 that make up an Rca in wheat enables it to activate Rubisco faster in hotter temperatures, suggesting an opportunity to help protect crops from rising temperatures.

Scientists took a wheat Rca (2β) that was already pretty good at activating Rubisco in lower temperatures and swapped out just one of its amino acids with one found in another wheat Rca (1β) that works pretty well in higher temperatures but is rubbish at activating Rubisco and the result is a new form of 2β Rca that is the best of both worlds.

Researchers are engineering crops to be more productive by improving photosynthesis, the natural process all plants use to convert sunlight into energy and yields.

Naturally occurring wheat Rca 1β has an isoleucine amino acid, works up to 39 degrees Celcius, but isn't great at activating Rubisco.

whereas the naturally occurring 2β has a methionine amino acid, works up to about 30 degrees Celcius, and is good at activating Rubisco.

Here the team has created a new version of 2β with an isoleucine amino acid that works up to 35 degrees Celcius and is quite good at activating Rubisco.

They have shown how this one amino acid swap can make Rca active at higher temperatures without really affecting its efficiency to activate Rubisco, which could help crops kickstart photosynthesis under temperature stress to churn out higher yields.