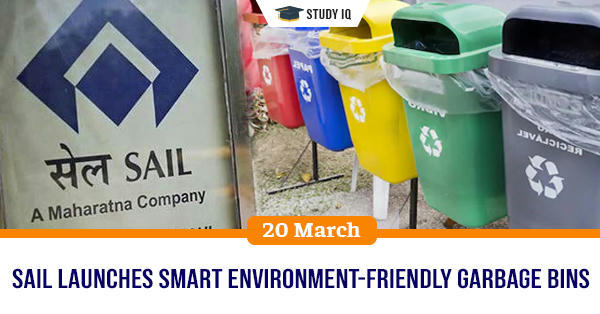 SAIL launches Smart Environment-Friendly Garbage bins
Date: 20 March 2019
Tags: Robotics, Fourth Industrial Revolution
Steel Authority of India Limited (SAIL) has launched smart environment-friendly garbage bins made of SAIL SALEM stainless steel. The smart garbage bin integrates technology for smart waste management. It can send signal to the collection vehicle about the ''fill-up'' position.
SAIL's Stainless Steel Garbage bin
It will be used to develop Smart Garbage Stations that will be set up at Bhikaji Cama Place, New Delhi by SDMC (South Delhi Municipal Corporation).

It will be installed in underground RCC pits in this Station, which will not only collect unbridled garbage of city, but will also save people from stink and diseases.

It will have IOT (Internet of Things) enabled Gazelle sensors on pit cover which will transmit signals to collection vehicle about "fill-up" position.

There will be separate bins for recyclable wastes and non-recyclable wastes. Since the bins will be placed under ground.

Benefits:

Smart Garbage Stations with Smart Stainless Steel garbage bins developed by SAIL will give smart look to cities and also help to promote image of Clean India around the world. It will also provide better cleaning services to public and reduce human intervention.
Steel Authority of India Limited (SAIL)
It is India's largest public sector steel producer. It is public sector undertaking, owned and operated by the Government of India.

It was incorporated in 1973 and is headquartered in New Delhi. It is one of the eight Maharatna CPSEs (central public sector enterprises).

It operates and owns 5 integrated steel plants at Bhilai, Durgapur, Rourkela, Bokaro and Burnpur (Asansol) and 3 special steel plants at Durgapur, Salem and Bhadravathi. It also owns Ferro Alloy plant at Chandrapur.