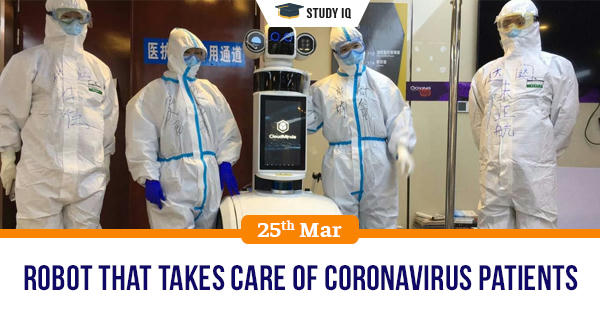 Robot that takes care of Coronavirus patients
Date: 25 March 2020
Tags: Robotics
Issue
As the COVID-19 pandemic continues to spread in India and across the world, Kochi-based startup Asimov Robotics has developed a robot that can be deployed in hospitals to ease pressure on the medical staff.
Background
The three-wheeled robot can carry food, medical and clinical consumables and navigate freely in the hospitals. The robot has been developed in 15 days by a team of seven people.
Details
The robot is mainly designed to be used inside isolation wards. The robot, dubbed "KARMI-BOT", has lower and upper trays that can be loaded with food or sterile containers.

Additionally, the robot also disinfects the used items as it comes out of the quarantine zone. The robot also lets doctors or relatives interact with the patients through video calling.

The robot has autonomous navigation and can be used remotely as well. The advantage of deploying a robot in this scenario is to cut down on human to human contact. This will help both health workers and visitors.

The robots are connected to the distributed sensor network and use AI and MI to come to a decision and based on that decision, they respond.

Earlier the had team deployed two humanoid robots at the entrance of Maker Village at the Kinfra Hi-Tech Park to create awareness about coronavirus outbreak and distribute masks and sanitisers to people who work in the Integrated Startup Complex.