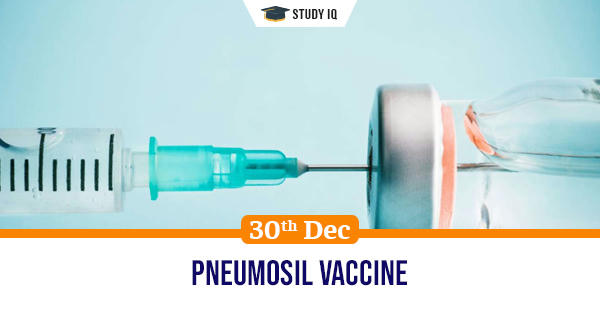 Pneumosil vaccine
Date: 30 December 2020
Tags: Biotechnology
Issue
Pune-based Serum Institute of India (SII) has unveiled India's first indigenously developed pneumococcal vaccine.
Details
SII's pneumococcal vaccine was developed through a collaboration spanning over a decade with the health organisation PATH and the Bill and Melinda Gates Foundation.

The vaccine targets the pneumococcal bacterium, which causes pneumonia and other serious life-threatening diseases such as meningitis and sepsis, and is estimated to cause nearly four lakh deaths in children under five years of age each year worldwide.

In view of its widespread fatality, the World Health Organization in 2018 recommended the inclusion of the pneumococcal conjugate vaccine (PCV) in routine childhood immunisation programmes in all countries.

The unique feature of PCV is its composition which is specially tailored to the serotype of the bacterium, S penumoniae, in India and other regions of the world.

Pneumosil has been extensively evaluated in five randomised controlled clinical trials and has demonstrated comparable safety and immunogenicity against licensed pneumococcal vaccines across diverse populations of India and Africa.
Pneumococcal disease
Pneumococcal disease is a name for any infection caused by bacteria called Streptococcus pneumoniae or pneumococcus. They can affect the lungs and other parts of the body.

Antibiotics can treat pneumococcal disease. However, many types of pneumococcal bacteria have become resistant to some of the antibiotics used to treat these infections.