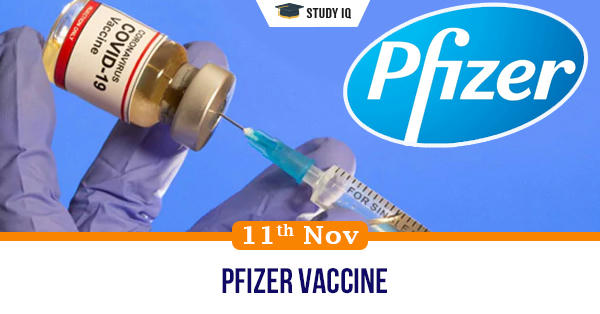 Pfizer vaccine
Date: 11 November 2020
Tags: Biotechnology
Issue
US drug-maker Pfizer's preliminary data from late-stage human trials of the Covid-19 vaccine has been found more than 90% effective.
Background
The findings are critical as the vaccine is headed for a review by the US Food and Drug Administration (FDA) later this month.
Details
The phase 3 trial of the vaccine candidate, BNT162b2, began on July 27 and has so far enrolled 43,538 participants, 38,955 of whom had received a second dose as of November 8.

This vaccine was developed using mRNA technology which makes use of the messenger RNA molecules that tell cells what proteins to build.

The mRNA, in this case, is coded to tell the cells to recreate the spike protein of the novel coronavirus.

Once the mRNA is injected into the body, the cells will use its instructions, creating copies of the spike protein, which is in return expected to prompt the immune cells to create antibodies to fight it.

Unlike several other vaccine candidates, mRNA vaccines are synthetically developed and they don't need the virus to be cultivated and replicated, just the code for the most crucial part that the body's immune system is to target.

After getting the code for the virus, it is possible to develop the vaccine within weeks for pre-clinical testing, compared with months taken for more traditional platforms.

The vaccine was more than 90% effective in preventing Covid-19 among participants who had received a second dose as opposed to those participants who had only received a placebo.