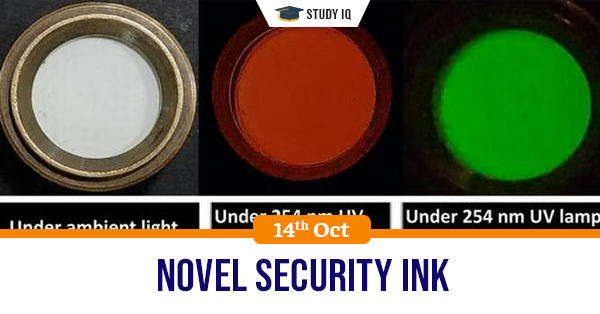 Novel security ink
Date: 14 October 2019
Tags: Particle Physics
Issue
NPL researchers have synthesised a security ink that emits intense red colour due to fluorescence when exposed to 254 nm wavelength UV and emits green colour due to phosphorescence soon after the UV source is turned off.
Background
Security inks are measures to protect printed materials in different guises. Invisible ink is one of the most widely used inks, invisible under naked eye and will be revealed when the print is placed under UV light source. The ink is not visible to the eye (covert) under normal lighting conditions.
Details
The emission of red is due to fluorescence while green is due to phosphorescence phenomenon. Both red and green can be clearly seen by naked eyes under ambient conditions.

The ink is prepared by dispersing the two pigments that have been mixed at a high temperature in a commercially available polyvinyl chloride (PVC) medium and vigorously stirred for an hour.

While the green phosphorescence is seen even if the ink is briefly exposed to UV radiation, exposing the ink to UV for 15 minutes ensures that the phosphorescence lasts for about four hours.

The researchers found the images printed on ordinary paper using the ink exhibited excellent physical durability and chemical stability.

No change in the emission was seen when the images were exposed to various bleaching solutions.
Applications
The ink has the potential to be used as a security feature on currency notes, passports, pharmaceuticals etc.