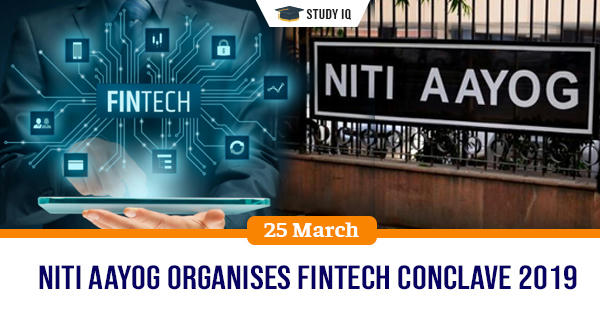 NITI Aayogorganises FinTech Conclave 2019
Date: 25 March 2019
Tags: Fourth Industrial Revolution
NITI Aayog has organized FinTech Conclave in New Delhi with objective to shape India's continued ascendancy in FinTech. It was inaugurated by Reserve Bank of India (RBI) Governor Shaktikanta Das. It facilitated stakeholder deliberation upon future of India's burgeoning FinTech (Financial Technology) space.
FinTech Conclave 2019
It seeks to build narrative for future strategy and policy efforts, and to deliberate steps for comprehensive financial inclusion.

It was attended by representatives from across the financial space - central ministries, bankers, regulators, startups, service providers and entrepreneurs.

Its valedictory sessions were based on themes such as Building Financial Products for Millennial India, Digital Onboarding of Customers/Merchants for Financial Inclusion, Emerging Areas of FinTech, Fast Tracking Investments in FinTech Industry and Financial Inclusion of MSMEs.
Background
FinTech (Financial Technology is used to describe new tech that seeks to improve and automate delivery and use of financial services. At its core, it is utilized to help companies, consumers and business owners to better manage their financial operations, processes by utilizing specialized software and algorithms.
India is one of the fastest growing FinTech markets globally and industry research has projected that US $1 Trillion or 60% of retail and SME credit, will be digitally disbursed by 2029.
Indian FinTech ecosystem is third largest in globe, attracting nearly US $6 billion in investments since 2014. It is creating cutting edge intellectual property assets in advanced risk management and artificial intelligence (AI) that will propel India forward in global digital economy while simultaneously enabling paperless access to finance for every Indian.