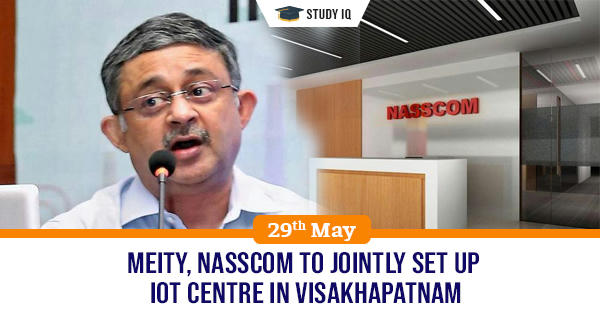 MeitY, NASSCOM to jointly set up IoT centre in Visakhapatnam
Date: 29 May 2019
Tags: Fourth Industrial Revolution
Union Ministry of Electronics and Information Technology (MeitY) will set up Centre of Excellence (COE) in Internet of Things (IoT) in Visakhapatnam, Andhra Pradesh in association with National Association of Software and Services Companies (NASSCOM). It will be fourth CO in process of being established by NASSCOM and MeitY for industries after Bengaluru, Gurugram and Ahmedabad. All these centres will promote the use of artificial intelligence by the industries. Industries would be encouraged for use of chat-bots, robots, power plants, data analytics and automation in the domains of automobiles, mineral-based plants, health, and finance (loan distribution).
National Policy on Software Products
It was approved by Union Cabinet in February 2019. It aims at developing India as Software Product Nation and global leader in conception, design, development and production of intellectual capital driven Software Products and accelerat growth of entire spectrum of IT Industry of the country.
Its objective is to nurture 10,000 technology startups including 1,000 in tier-II and tier-III towns, to create talent pool for software products industry by upskilling one million IT professionals, motivating 1 lakh school and college students and specialise 10,000 professionals who can provide leadership.
It also envisages creation of a dedicated software product development fund with corpus of Rs. 1,000 crore and launching of scheme to create corpus of Rs.5,000 crore with an end target to have at least 100 Indian software product companies with valuation of Rs.500 crore. It also proposes to extend research and innovation support to institutes of higher learning by allotting Rs.500 crore.