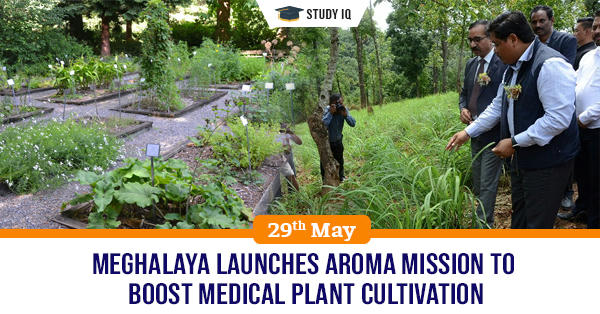 Meghalaya launches Aroma Mission to boost medical plant cultivation
Date: 29 May 2019
Tags: Biotechnology
Meghalaya Government has launched Aroma Mission to boost the cultivation of medicinal and aromatic plants (MAPs). As part of it, Meghalaya Chief Minister Conrad K Sangma inaugurated a processing unit of essential oils. In this regard, memorandum of agreement (MoA) was also signed between Central Institute of Medicinal and Aromatic Plants (CIMAP) and Meghalaya Basin Development Authority (MBDA) for collaborative work on medicinal and aromatic plants.
Aroma Mission
Under it farmers will be encourage to cultivate medicinal and aromatic plantations especially in vast stretches of wastelands. It will help in strengthening livelihood condition of farmers and create employment opportunities in the state.
For it, state government has sanctioned Rs 18-crore. It will ensure that agriculture and allied sectors get due importance and the farmers their benefits. It will enable people in state who have used medicinal and aromatic plants for generations to cure various ailments and diseases to share their knowledge with the rest of the world.
To begin with lemon grass and citronella plant cultivation will be taken up on 50-acre plots in every district of the state. Depending on response of farmers, State Government will decide whether to expand area of cultivation for citronella and lemon grass.
Central Institute of Medicinal and Aromatic Plants (CIMAP)
It is frontier plant research laboratory of Council of Scientific and Industrial Research (CSIR). It is engaged in the field of science and business of medicinal and aromatic plants (MAPs). It also steers multidisciplinary high quality research in chemical and biological sciences and extends technologies and services to farmers and entrepreneurs of MAPs.
It was established in 1959 as Central Indian Medicinal Plants Organisation (CIMPO). It is headquartered in Lucknow, Uttar Pradesh. It has four research centers situated in Hyderabad, Pantnagar, Bangalore and Purara (near Bageshwar, Uttarakhand).