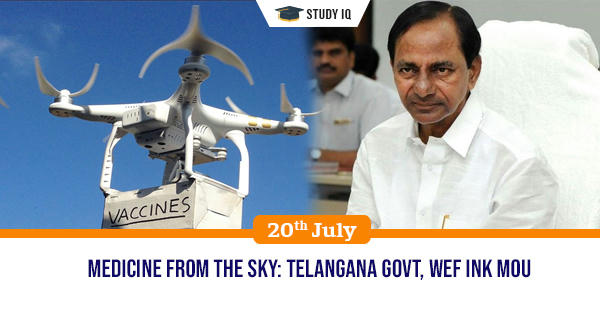 Medicine From the Sky: Telangana Govt, WEF ink MoU
Date: 20 July 2019
Tags: IT, Mobile & Computers, Fourth Industrial Revolution
Telangana Government and World Economic Forum's Centre for Fourth Industrial Revolution Network signed MoU to launch 'Medicine from the Sky' project. It is innovative pilot project aimed at delivering emergency medical supplies such as blood and vaccines via drones.
About Medicine from the Sky Project
Bodies involved in this pilot project:

Telangana Government, World Economic Forum's Centre for the Fourth Industrial Revolution Network in partnership with the HealthNet Global Limited.

Features:

It conduct comprehensive study of drone-based deliveries for blood, vaccines, medical samples and organs i.e. to study how delivery drones can be used to improve medical supply chains,.

Benefits:

It will provide evidence-based approach for implementation of drones in healthcare, enabling emergency-care services to t patients in shortest time frame possible, thus saving their live. It will help to facilitate decision-making in healthcare supply chains, address issues that affect medical distribution system and focus on last-mile deliveries.