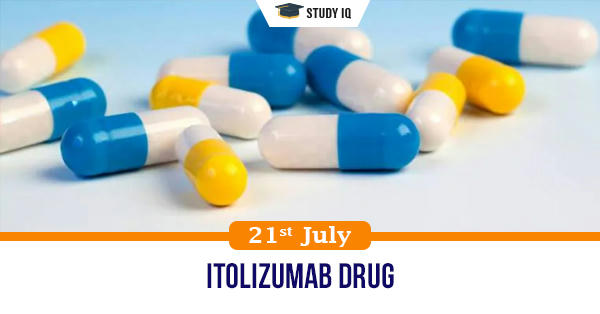 Itolizumab drug
Date: 21 July 2020
Tags: Biotechnology
Issue
A repurposed drug, Itolizumab, is one of the newest treatments for Covid-19 approved in India. The Drug Controller General of India recently approved it as a novel biologic therapy for restricted emergency use.
Background
The decision has also sparked controversy because of the small size of the clinical trials, and because exemption has been granted from phase-III trials.
Details
Itolizumab is an existing drug used for psoriasis, a chronic skin disease involving unregulated growth of some skin cells that develop into red patches mostly on knees and elbows, but also on some other parts of the body.

The drug, developed by Bengaluru-based Biocon, was approved in 2013. It is considered safe and effective for the treatment of psoriasis.

The SARS-CoV-2 virus has been observed to induce an overreaction of the immune system, generating a large number of cytokines that can cause severe damage to the lungs and other organs, and, in the worst scenario, multi-organ failure, and even death.

The approval from the DCGI is based on the results from the conclusion of a randomised, controlled clinical trial at hospitals in Mumbai and New Delhi.

The study focused on the safety and efficacy of Itolizumab in preventing cardio-renal complications in Covid-19 patients who also have acute respiratory distress. The drug has been found to reduce these complications in such patients.

The drug controls the hyper-activation of the immune system in response to the SARS-CoV-2 virus and prevents morbidity and mortality related to the cytokine storm.

The clinical trial showed that the drug is best administered in the pulmonary phase of the Covid-19 infection when the cytokine build-up is starting and the patient is experiencing shortness of breath and exhibiting abnormal chest images.

It prevents progression to the hyper-inflammation phase (cytokine storm) and other complications like coagulation and organ failure.

The most critical part is to know when to use the drug and it must be reserved for moderate to severe COVID cases with cytokine storm where oxygen requirements are rapidly going up.

Inflammations commonly found in Covid patients were suppressed, and these correlated well with clinical improvement in symptoms. Overall, the drug was found well-tolerated.