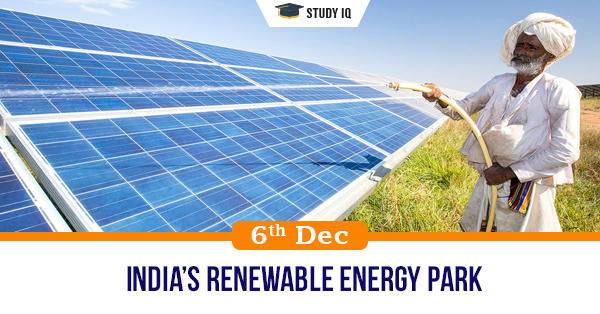 India's renewable energy park
Date: 06 December 2020
Tags: Energy
Issue
Prime Minister Narendra Modi will be laying foundation stone for the world's largest renewable solar and wind energy park in Gujarat's Kutch.
Background
With government of India committing towards installing 175GW of renewable energy capacity by 2025, the Gujarat government identified wasteland near the international border for setting up the park.
Details
The renewable park will have two zones: one will exclusively contain Wind Park and the other will be hybrid consisting of both solar and wind parks.

The land in the park is allotted to different energy developers who will install structures according to their demand. This will be both wind as well as solar.
India's renewable energy targets
As of now, 38% of India's installed electricity generation capacity is from renewable sources (136 GW out of 373 GW).

In the Paris Agreement India had committed to an Intended Nationally Determined Contributions target of achieving 40% of its total electricity generation from non-fossil fuel sources by 2030.

The country is aiming for even more ambitious target of 57% of the total electricity capacity from renewable sources by 2027.

According to 2027 blueprint, India aims to have 275 GW from renewable energy, 72 GW of hydroelectricity, 15 GW of nuclear energy, and nearly 100 GW from "other zero emission" sources.

Government of India has also set a target for installation of Rooftop Solar Projects (RTP) of 40 GW by 2022 including installation on rooftop of houses.

The government target of installing 20 GW of solar power by 2022 but it was achieved four years ahead of schedule in January 2018, through both solar parks as well as roof-top solar panels.

India then set a new target of achieving 100 GW of solar power, 60GW of wind power, 10GW of bio mass, and 5GW of small hydro power by 2022.

Three of the top five largest solar parks worldwide are in India including the second-largest solar park in the world at Kurnool, Andhra Pradesh, with a capacity of 1000 MW. The world's largest solar power plant, Bhadla Solar Park is in Rajasthan with a capacity of 2255 MW.