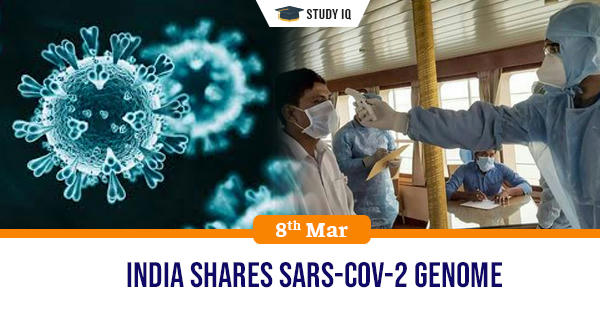 India shares SARS-CoV-2 genome
Date: 08 March 2020
Tags: Biotechnology
Issue
India has finally shared two whole genome sequence data of the novel coronavirus (SARS-CoV-2) with the Global Initiative on Sharing All Influenza Data (GISAID).
Background
The two sequences were shared by the Pune-based National Institute of Virology. This news comes after report that India has not shared any genome sequence data with the GISAID.
Details
The whole genome sequences of two oronasopharynx (mouth, nose, throat) samples collected on January 27 and 31 from two COVID-19 patients in Kerala were deposited in GenBank.

GISAID said it had updated the database with two SARS-CoV-2 sequences from Kerala and these sequences do not link very closely to other sequences in the tree.

At this point, it is not clear why the sequences appear to differ from the rest in the phylogenetic tree. It could have been possibly due to sequencing errors.

Sequencing the genome of novel coronavirus will help us to know where the virus came from and how the virus has spread.

So far, 26 countries, including India, have shared 178 SARS-CoV-2 genome sequences with the GISAID. At 70, China has shared the highest number of sequences.

The other countries that have shared higher number of sequences are the U.S. (22), Australia and Japan (10 each), and Singapore and South Korea (eight each). Nepal, Vietnam and Cambodia have also shared one sequence each.
GISAID
The GISAID Initiative, also known as a Global Initiative on Sharing All Influenza Data, involves public-private-partnerships between the Initiative's administrative arm Freunde of GISAID e.V., a registered non-profit association, and governments of the Federal Republic of Germany, the official host of the GISAID platform and EpiFlu database, Singapore and the United States of America, with support from private and corporate philanthropy.

It Provides a collection of influenza sequences containing associated metadata, both clinical and epidemiological. GISAID EpiFlu database is a resource that stores information about Influenza virus.