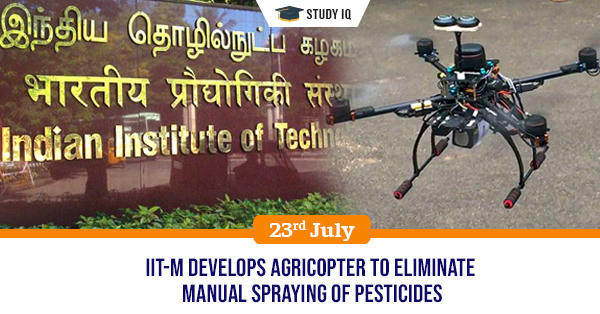 IIT-M develops Agricopter to eliminate manual spraying of pesticides
Date: 23 July 2019
Tags: Robotics
Students from Indian Institute of Technology (IIT) Madras have developed "smart agricopter" to eliminate manual spraying of pesticides in agricultural fields. It also allows spraying pesticides ten times faster and with 100

%

precision at the same cost as manual spraying.
Smart agricopter
It is hexacopter drone having capacity to carry 15 liters of pesticide. It has completely autonomous pesticide refilling system which ensures entire spraying is completely autonomous. It is also fitted with advanced multispectral imaging camera that helps to identify crop health by using imaging camera.
Benefits: It eliminates need for farmers to come in contact with pesticides as well as intelligently identify which crops on farm require pesticides and which did not. Its imaging camera allows it to make smart maps of farmland based on crop health.
Need for smart agricopter
Manual pesticide spraying is extremely hazardous activity as it endangered farmers' and laborers' health at risks. It also has resulted in massive overuse of toxic chemicals.