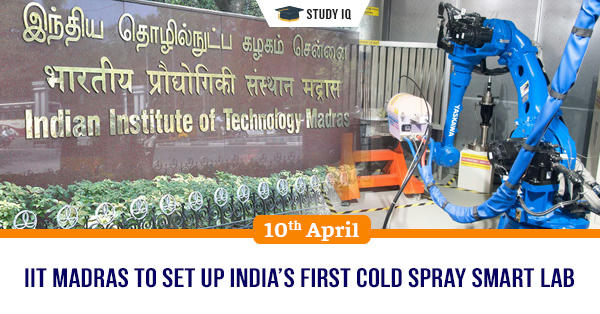 IIT Madras to set up India's first Cold Spray SMART Lab
Date: 10 April 2019
Tags: Nanotechnology
Indian Institute of Technology Madras has established 'Cold Spray' SMART (Surface Modification and Additive Research Technologies) Laboratory in collaboration with American conglomerate General Electric (GE). It is first of its kind High-Pressure Cold Spray (HPCS) facility in India that will be utilised to develop processes for aero-engine applications.
Cold Spray SMART Lab
The project is funded under Central Government's 'Uchchatar Avishkar Yojana' (UAY), which is intended to boost collaboration between academia and private sector. Union Ministry of Human Resources Development was key investor along with Department of Science and Technology (DST), IIT Madras, and GE.
The laboratory consists of state-of-the-art High-Pressure Cold Spray (HPCS) equipment imported from Plasma Giken, Japan. It will help in strengthening MRO ecosystem in the country. It will also help to develop advanced technology expertise and skill development of engineers in additive technology.
High pressure cold spray
It is different from other widely used thermal spray processes. In it, there is no melting and oxidation of powders. It produces high quality coatings. Moreover, deposition rates using it are very high which leads to less powder wastage and it can be used for additive manufacturing and repair of components. It has huge potential for depositing protective coatings and repair of components. The technology is already being used for repair of worn out components for defense applications