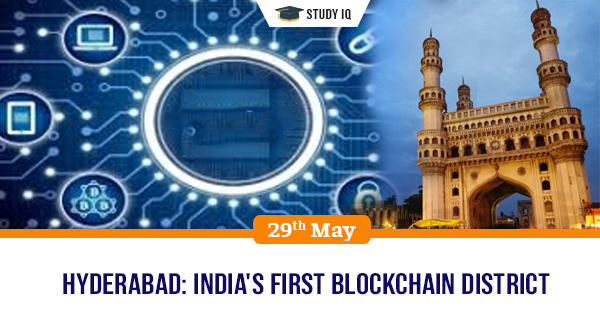 Hyderabad: India's first blockchain district
Date: 29 May 2019
Tags: Fourth Industrial Revolution
Telangana government will set up the country's first 'Blockchain district' in its capital city Hyderabad to create an ecosystem for all the start-ups and institutes working in Blockchain technology. It was announced as part of state government's recently released draft Blockchain policy.
Blockchain District
It will house all major blockchain technology companies and will have huge incubator and world-class facility for promoting research, innovation and industry collaboration.

It will focus on R&D in block chain technology in the field of banking, financial services and insurance, pharma and healthcare, logistics and supply chain and government sectors.

It will be based around four main pillars: Developing talent pool, supporting infrastructure, promoting research and innovation and enabling collaboration and building community.

It will provide academic institutions and industry platform to come together to promote research and innovation.
Blockchain
It is a distributed ledger or decentralized digital ledger technology for storing data across peer-to-peer network.

It decentralizes information without it being copied. Thus, it is kind of self-auditing ecosystem of digital value.

Information is held on blockchain through shared database can be accessed on real-time basis. It is transparent and incorruptible.

It promises secured transactions as it disallows changes to 'blocks' of recorded information. It automatically checks every transaction that happens in it.