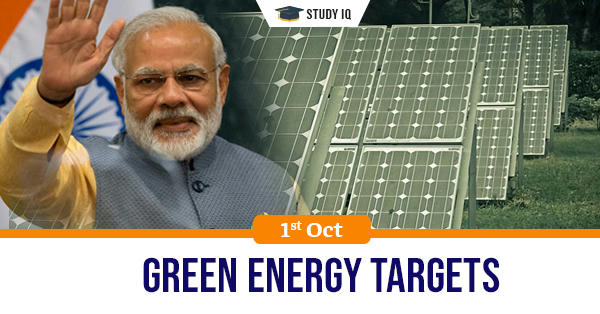 Green energy targets
Date: 01 October 2019
Tags: Energy
Issue
Prime Minister Narendra Modi had declared at New York last week that India would be aiming to increase its renewable energy target to 450 GW (gigawatts).
Background
After the threat of global warming has become eminent, the authorities have been planning to reduce the effects by making the transition towards sustainable sources including renewable energy such as solar, wind etc.
Details
India's plan for installing 175 GW of renewable energy capacity by 2022 was first announced in 2015. Of this, 100 GW was to be from solar power, and so far about 80 GW has been installed.

As per India's submission to the United Nations Framework Convention on Climate Change on Intended Nationally Determined Contribution (INDC), a cumulative electric power capacity of 40 per cent from non-fossil fuel-based energy resources is to be installed by 2030.
Renewable energy in India
India is running one of the largest and most ambitious renewable capacity expansion programs in the world. In 2019 at UN climate summit, PM Modi announced that India will be more than doubling its renewable energy target from 175GW by 2022 to 450GW of renewable energy by the same year.

India is one of the countries with the largest production of energy from renewable sources. In the electricity sector, renewable energy account for 34.6% of the total installed power capacity.
Various sources
Hydropower
India is the 7th largest producer of hydroelectric power in the world. As of April 2017, India's installed utility-scale hydroelectric capacity was 44,594 MW, or 13.5% of its total utility power generation capacity.
Wind Power
The installed capacity of wind power in India was 34,293 MW, mainly spread across Tamil Nadu , Maharashtra , Gujarat , Rajasthan (2,784.90 MW), Karnataka , Andhra Pradesh and Madhya Pradesh .
Wind power accounts for 10% of India's total installed power capacity.
Bio mass
It is estimated that the potential for biomass energy in India includes 16,000 MW from biomass energy and a further 3,500 MW from bagasse cogeneration.