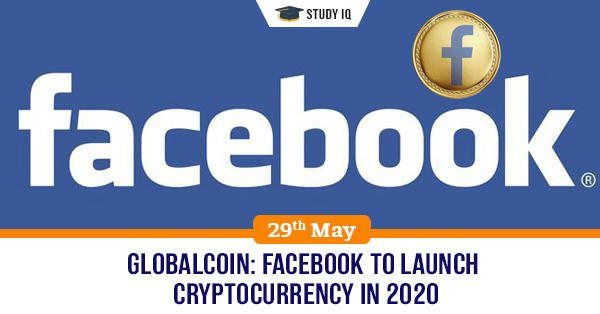 Globalcoin: Facebook to launch cryptocurrency in 2020
Date: 29 May 2019
Tags: Fourth Industrial Revolution
Social networking giant Facebook is planning to launch its own open cryptocurrency called "GlobalCoin" in many major markets by 2020 under its "Project Libra" scheme. Through, GlobalCoin, Facebook seeks to make money transfers faster and cheaper. Besides, it will also unlock variety of new potential revenue sources for Facebook as it will increase its revenue diversification into financial services. Facebook is working with online merchants to accept GlobalCoin as payment in return for lower transaction fees. The key target market for Facebook's Globalcoin is people without bank accounts.
GlobalCoin
It will be open cryptocurrency system i.e. it will be more liquid and easier to exchange to/from fiat currency as compared to close cryptocurrency system such as bitcoin.

It will be different from most other digital payments systems as it will enable consumers to use the currency even if they don't have bank account.

Its value will be pegged to basket of established currencies, including US dollar, euro and the Japanese yen, to stabilize value of digital currency. (Whereas in most of crypto currencies, their value is fluctuating based on their demand and supply)

It will enable Facebook users to convert legal currencies such as dollars and other international currencies directly into its digital coins.

This will enable users to buy things on internet and in other outlets, or even to transfer money to another user.