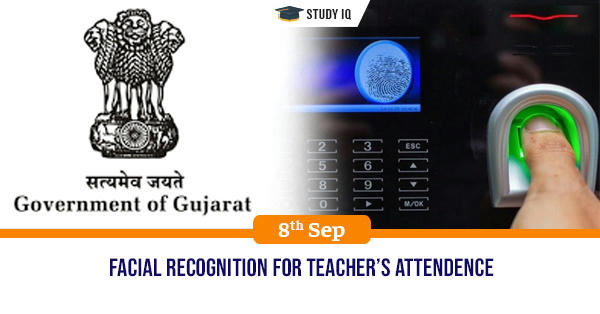 Facial recognition for teacher's attendence
Date: 08 September 2019
Tags: IT, Mobile & Computers
Issue
To curb absenteeism at government schools, the Gujarat government on September 5 launched a facial recognition-based biometric online attendance system across 40,000 primary schools.
Background
Parents have complained of "proxy teachers", especially in the interior rural areas where some teachers send unqualified individuals to teach in their place. The geo-fenced biometric attendance system is intended to stop such corruption.
Details
The State Education Department will distribute tablets equipped with geo-tagging and biometrics software to all schools in the next two months.

The app is optimised with an intelligent algorithm that will record facial features of the teachers at the time of the registration, such that a minor variation will not be a hindrance in the recognition.

The use of this technology is on a pilot basis and hence has been installed only on the tablets already provided. There are also plans to extend this feature to all government departments.
Concerns
Section of teachers have protested against the introduction of the facial recognition-based attendance system, citing privacy concerns.

Teachers have demanded that the state government should provide at least one smartphone to each school with internet connectivity. This issue has now been resolved with the distribution of the tablets.

The schools located in isolated locations face problem of network connectivity. This will hinder the successful implementation of the scheme.