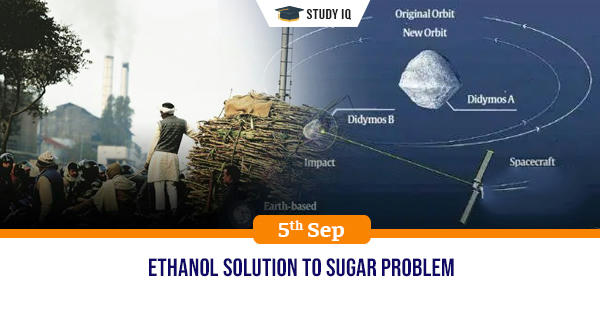 Ethanol solution to sugar problem
Date: 05 September 2019
Tags: Energy
Issue
The government approved an increase in the price of ethanol to be procured by public sector oil marketing companies (OMCs) from sugar mills for blending with petrol for the 2019-20 supply year from December 1.
Background
This comes at a time when a surplus of sugar production is depressing sugar price. Consequently, sugarcane farmer's dues have increased due to the lower capability of the sugar industry to pay the farmers.
Details
The Cabinet Committee on Economic Affairs (CCEA) also allowed conversion of old sugar into ethanol, which is expected to help mills deal with the current overproduction in the sweetener and make timely payments to farmers for the cane delivered by them.

Given the surplus sugar production in the country, government has allowed mills to produce ethanol from 'B' heavy molasses and directly from sugarcane juice.

The CCEA approved even use of sugar and sugar syrup for production of ethanol.
Effects of the move
Increased ethanol blending in petrol is expected to replace 2 million tonnes of oil annually, helping save $1 billion in import bill.

These decisions will help in further increasing the ethanol blend levels from the current 6% average levels.
Ethanol fermentation