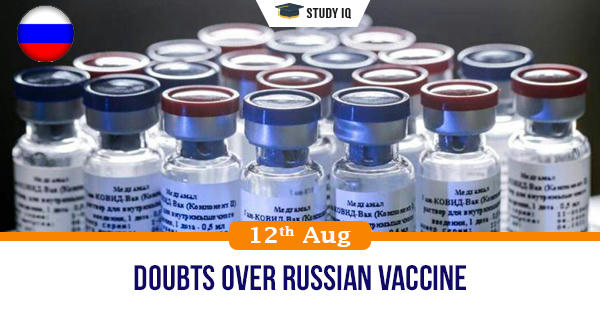 Doubts over Russian vaccine
Date: 12 August 2020
Tags: Biotechnology
Issue
Russia became the first country to grant regulatory approval to a Covid-19 vaccine, dubbed Sputnik V, for civilian use.
Background
The vaccine, developed by Moscow's Gamaleya Institute in collaboration with the country's defence ministry, has led to scepticism regarding its safety and effectiveness since it is being approved for civilian use even before clinical trials are completed.
Details
Last week, the World Health Organisation cautioned Russia against rushing through with its vaccine as officials expressed doubts over the shots being produced in China and Russia during testifying before a panel of US lawmakers.

Russia's vaccine is based on the DNA of a SARS-CoV-2 type adenovirus, a common cold virus. The vaccine uses the weakened virus to deliver small parts of a pathogen and stimulate an immune response. Officials maintained that the coronavirus particles in the vaccine cannot harm the body as they cannot multiply.

So far, Russia has only made public the results of phase-I of the clinical trials, which they claimed were successful and produced the desired immune response.

The Defence Ministry had claimed that none of the volunteers had reported any complaints and experienced no side-effects.

Phase I human trials started on June 17 among 76 volunteers, with most being recruited from the military. Half were injected with a vaccine in liquid form and the other half with a vaccine that came as soluble powder.

The superfast speed at which the Russian vaccine has been produced, eclipsing front runners like Oxford-AstraZeneca, Moderna, and Pfizer, has led to experts flagging that the government has cut corners and may put citizens at risk.

What has raised the issue from experts is the fact that human trials for the vaccine, which takes several years in normal circumstances, have been completed in less than two months.

Russia, however, has claimed that this was made possible due to the fact that its Covid-19 vaccine candidate closely resembled a vaccine for Middle East Respiratory Syndrome (MERS) disease, caused by another coronavirus, that had already been tested extensively.