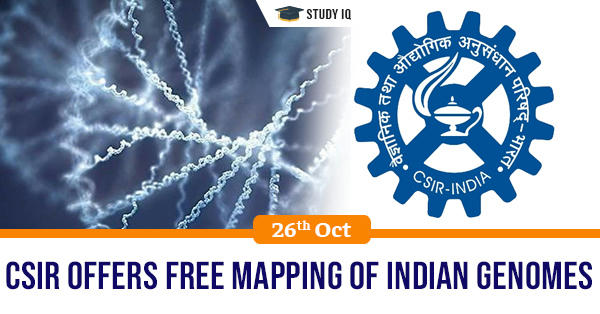 CSIR offers free mapping of Indian genomes
Date: 26 October 2019
Tags: Biotechnology
Issue
Indians interested for having their genes mapped can join the IndiGen initiative, a programme managed by the CSIR-Institute of Genomics and Integrative Biology (IGIB) and the CSIR-Centre for Cellular and Molecular Biology (CCMB).
Background
The programme is a culmination of a six-month project by the CSIR in which 1000 Indians, had their genomes scanned in detail. They were chosen from across the land to represent the width of genetic variability.
Details
Those who do get their genes mapped this way will get a card and access to an app, which will allow them and doctors to access clinically actionable information on their genomes.

The aim of the exercise was twofold: To test if it's possible to rapidly and reliably scan several genomes and advise people on health risks that are manifest in their gene and, understand the variation and frequency of certain genes that are known to be linked to disease.

A genetic test, which is commercially available at several outlets in the country, usually involves analysing only a portion of the genome that's known to contain aberrant genes linked to disease.

The outcomes of IndiGen will have applications in a number of areas including faster and efficient diagnosis of rare genetic diseases.

The IndiGenome card and app ensures privacy and data security, which is vital for personal genomics to be implemented at scale.
Genetic mapping
Gene mapping describes the methods used to identify the locus of a gene and the distances between genes.
Importance
Genetic mapping can offer firm evidence that a disease transmitted from parent to child is linked to one or more genes.

Mapping also provides clues about which chromosome contains the gene and precisely where the gene lies on that chromosome.

Genetic maps have been used successfully to find the gene responsible for relatively rare, single-gene inherited disorders such as cystic fibrosis and Duchenne muscular dystrophy.
Genetic maps are also useful in guiding scientists to the many genes that are believed to play a role in the development of more common disorders such as asthma, heart disease, diabetes, cancer, and psychiatric conditions.