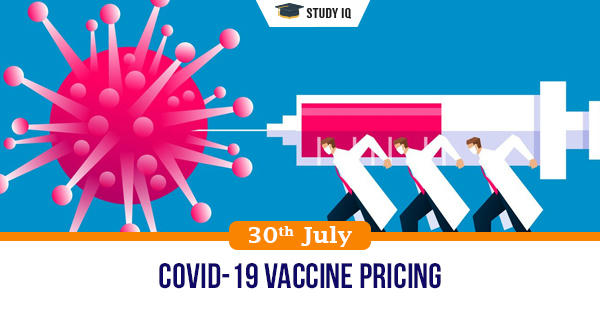 Covid-19 vaccine pricing
Date: 30 July 2020
Tags: Biotechnology
Issue
With four vaccine candidates in final stage human trials and firms eyeing to launch them by year-end, the topic has now veered towards the pricing of the shots and which countries would access them first.
Background
The Covid-19 vaccine candidates by the University of Oxford-AstraZeneca, Moderna Inc, Pfizer Inc-BioNTech, and Chinese firm Sinovac are all undergoing Phase III trials at present.
Details
While Pfizer, Moderna, and Merck & Co have said they plan to sell their vaccines at a profit, some drugmakers, including Johnson & Johnson have announced plans to price their vaccines on a not-for-profit basis.

However, even before regulatory approval, several rich countries have entered into pre-purchase agreements with vaccine manufacturers, a development that has come to be known as "vaccine nationalism".

Oxford University's AZD1222 vaccine, based on a chimpanzee adenovirus called ChAdOx1, is already undergoing combined Phase II/III trials in the UK, Brazil and South Africa and may soon be tested in India as well.

The UK government has already struck a deal for 100 million doses of the Oxford vaccine. The firm has also signed a $127 million deal with the Brazilian government to produce an initial 30 million doses.

Moderna Inc has started Phase III trials of its mRNA-1273 vaccine involving 30,000 human volunteers. The vaccine uses messenger RNA, a synthetic form of genetic material from the virus designed to nudge the body's immune system into attack mode.

The US government is supporting Moderna's vaccine with nearly half a billion dollars and the firm has signed an agreement with drugmaker Catalent Inc to make an initial 100 million doses.

It has also signed an agreement with Spain's Laboratorios Farmaceuticos Rovi SA, Swiss contract drugmaker Lonza Group AG and the Israel government.

Moderna is planning to price the vaccine at $50-60 (Rs 3,700-Rs 4,500) for the entire course. This would mean that per dose would be priced at $25-30 (Rs 1,800-Rs 2,300).

American drugmaker Pfizer Inc, which has partnered with German biotech firm BioNTech to develop a vaccine candidate called BNT162b2, progressed to phase II/III trials.

The UK government has secured 30 million doses of the BioNtech/Pfizer vaccine. Deals have been signed with the Netherlands, Germany, France, and Italy as well.

The GAVI vaccine alliance, of which India is a part and has pledged $15 million, said it would seek to negotiate tiered pricing for richer and poorer countries.