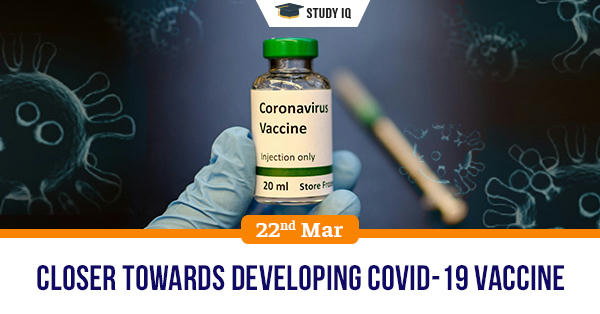 Closer towards developing COVID-19 vaccine
Date: 22 March 2020
Tags: Biotechnology
Issue
Designing better antivirals that would prevent the novel coronavirus (SARS-CoV-2) from infecting human cells may now become possible thanks to a team of researchers producing the crystal structure of the main protease of the virus.
Background
A team developed the crystal structure of main protease of the virus at 1.75 angstrom resolution. Based on the structure, they developed the lead compound into a potent inhibitor of the SARS-CoV-2.
Details
Main virus protease is an enzyme that processes proteins critical to virus development. An antiviral that blocks this enzyme, as in the case of drugs used against HIV virus, effectively prevents the virus from replicating. Hence, such an inhibitor will be effective against the novel coronavirus.

Main virus protease is one of the best characterised drug targets among coronaviruses. The inhibitor against the main protease targets a specific region of the enzyme.

And any antiviral that targets this region of the enzyme will be specific to the virus and will not be toxic to human cells.

The researchers had earlier designed broad-spectrum inhibitors of the main proteases of other coronaviruses. One of the inhibitors showed good antiviral activity against other coronaviruses.

Now, the team chose that inhibitor and modified it to increase the amount of time the drug is present in the body and to improve its solubility in plasma.

After the modification, the half-life of the inhibitor (compound 13a) increased three-fold, and the solubility improved by a factor of about 19. And to enhance the antiviral activity, the researchers further modified the inhibitor (compound 13b).

The inhibitor showed good potency to block the replication of the virus at half maximal effective concentration of 1.75 micromolar. In human cells infected with the novel coronavirus, a higher half maximal effective concentration of the inhibitor was required.

When the inhibitor was administered subcutaneously into mice, the inhibitor was present in the plasma for as long as four hours but was excreted via urine for up to a day.

The half-life of the compound 13b was found to be 1.8 hours. But most importantly, even after 24 hours there was some amount of the compound 13b in the lung tissue. The presence of the inhibitor in the lungs even at the end of a day is particularly signifiicant as the virus affects the lungs.

The team tested for any adverse effects when mice inhaled the inhibitor 13b. This suggesting that this way, direct administration of the compound to the lungs would be possible.