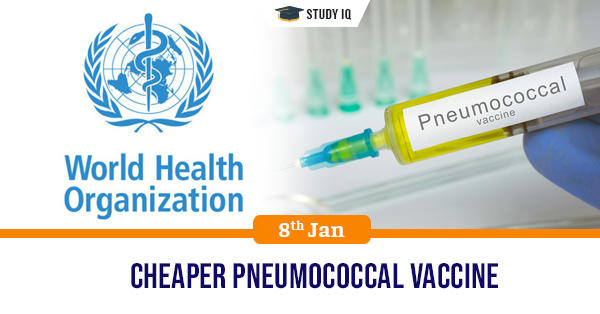 Cheaper pneumococcal vaccine
Date: 08 January 2020
Tags: Biotechnology
Issue
A vaccine against a leading cause of deadly childhood pneumonia, the pneumococcus bacterium, has achieved prequalification by the World Health Organization (WHO).
Background
The vaccine is developed though a collaboration spanning over a decade between Serum Institute of India, Pvt., Ltd. (SIIPL) and PATH and with funding from the Bill & Melinda Gates Foundation.
Details
The vaccine is expected to provide protection for children on par with other pneumococcal conjugate vaccines at a price that is more affordable for low- and middle-income countries.

In addition to pneumonia, the pneumococcus bacterium causes other serious, life-threatening diseases like meningitis and sepsis. It is estimated to cause nearly 400,000 deaths in children under five years of age each year worldwide.

Pneumococcal conjugate vaccines have helped significantly reduce pneumococcal deaths and illness where introduced but are difficult for many countries to afford.

Pneumococcal conjugate vaccines are among the most complex vaccines to manufacture.

The current manufacturing process has been optimized to make it more efficient, reducing costs while preserving vaccine quality and making the vaccine a more affordable option for countries with the highest burdens of pneumococcal disease.
Conjugate vaccine
Conjugate vaccines combine a weak antigen with a strong antigen as a carrier so that the immune system has a stronger response to the weak antigen.

The antigen of some pathogenic bacteria does not elicit a strong response from the immune system, so a vaccination against this weak antigen would not protect the person later in life. In this case, a conjugate vaccine is used in order to invoke an immune system response against the weak antigen.
Pneumonia
Pneumonia is an infection of the lungs with a range of possible causes. It can be a serious and life-threatening disease. It normally starts with a bacterial, viral, or fungal infection.