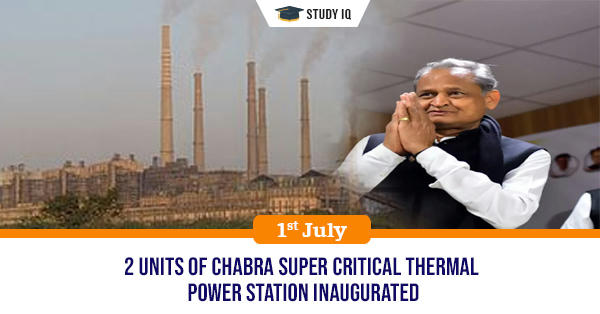 2 Units of Chabra Super Critical Thermal Power Station inaugurated
Date: 01 July 2019
Tags: Energy
Rajasthan Chief Minister Ashok Gehlot inaugurated 5th and 6th Units (each having 660 MW capacity) of Chabra Super Critical Thermal Power Station in Chhabra block, Baran district of state. These two units are state's first thermal power project based on Super Critical Thermal Power Technology. With the commencement of two new units, the total capacity of this power plant has increased to 2,320 MW. It will benefit 78 lakh fresh consumers in the state
About Chhabra Thermal Power Plant
It is one of Rajasthan's coal fired power plants. It is located at Chowki Motipura Village, Chhabra tehsil in Baran district of Rajasthan. Its four Units are already producing total power of 1000MW (each having capacity of 250 MW).
About Super Critical Thermal Power Plants
They operate at temperatures and pressures above critical point of water, i.e. point at which there is no difference between water gas and liquid water. It is above temperature and pressure at which liquid and gas phases of water coexist in equilibrium.

Difference with conventional coal-fired power plants

: water is boiled to generate steam that activates turbine to generate power. They have efficiency of about 32%.

Benefits of SC power plants:

They require less coal per megawatt-hour, higher efficiency (above 45%), lower fuel costs per megawatt and emits lower emissions (including carbon dioxide and mercury).