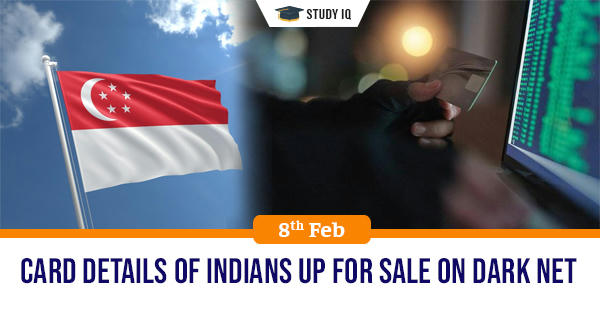 Card details of Indians up for sale on Dark Net
Date: 08 February 2020
Tags: IT, Mobile & Computers
Issue
A Singapore-based cybersecurity company has revealed that about 98% of credit card and debit card details that is being sold on Dark Net is that of Indians.
Background
In October 2019, Group-IB Threat Intelligence team had detected the first such database of over 1.3 million credit and debit card records, mostly of Indian customers.
Details
The stash of 4,61,976 card payment details went up for sale on Joker's Stash, one of the most secretive portals on the dark net for buying such information.

The company has also observed that the data is suspected to have been collected from phishing rackets, which are on the rise in India over the last few years.

The underground market value of the database is estimated at more than $4.2 million. The source of this batch currently remains unknown.

In the current case is pertaining to so-called fullz, which have info on card number, expiration date, CVV/CVC, cardholder name as well as some extra personal info. Such type of data is likely to have been compromised online with the use of phishing, malware, or JS-sniffers.

JavaScript or JS-Sniffers are programmes used for stealing credit and debit card information from e-commerce websites, and are among the latest concerns when it comes to cybersecurity and theft of sensitive card details.
Dark Net
Dark Net (or Darknet, synonymous with dark web) is the part of the Internet below the private deep web[1] that uses custom software and hidden networks superimposed on the architecture of the Internet.

Types of dark webs include friend-to-friend networks (usually used for file sharing with a peer-to-peer connection) and privacy networks such as Tor.