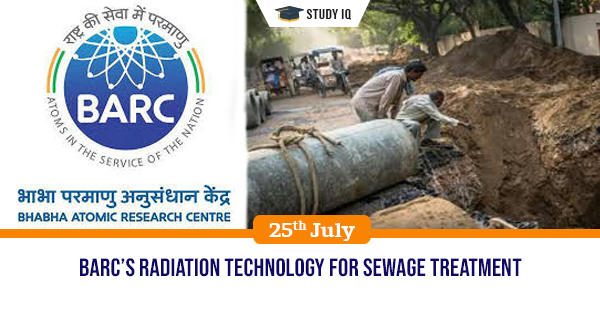 BARC's radiation technology for sewage treatment
Date: 25 July 2019
Tags: Energy
Bhabha Atomic Research Centre (BARC) developed radiation technology for sewage treatment using Co-60 (Cobalt-60). It has set up Technology Demonstration Pilot Project Sewage Sludge Hygienisation Plant at Shahwadi, Ahmedabad in collaboration with Amdavad Municipal Corporation (AMC), Ahmedabad. This plant loaded with 150 kCi of Co-60 and is in continuous operation since inauguration in February 2019. Besides this recent deployment of radiation technology for sewage treatment, BARC since last 30 years has deployed another liquid sludge irradiator called Sludge Hygienisation Research Irradiator (SHRI) is at Vadodara for radiation treatment of raw sludge containing 3-4% solids.
About Bhabha Atomic Research Centre (BARC)
It is India's premier multi-disciplinary nuclear research facility. It is located in Trombay, Mumbai, Maharashtra.

It was established in 1954 as Atomic Energy Establishment, Trombay (AEET). It was renamed to present name after Dr. Homi Jehangir Bhabha, father of Indian nuclear programme and founder of AEET.

Its core mandate is to sustain peaceful applications of nuclear energy, primarily for power generation.

It serves as multi-disciplinary research centre with extensive infrastructure for advanced research and development covering entire spectrum of nuclear science, engineering and related areas.

It operates number of research reactors across the country. It also serves as India's main nuclear weapons fuel lab.