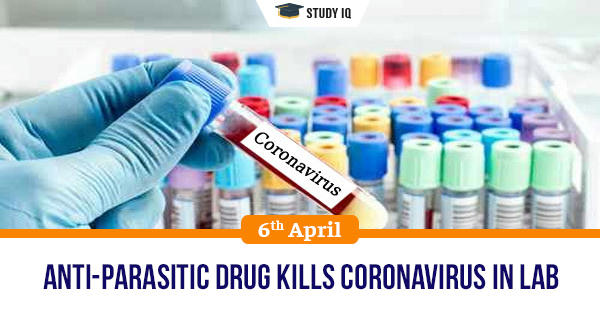 Anti-parasitic drug kills Coronavirus in lab
Date: 06 April 2020
Tags: Biotechnology
Issue
Researchers have found that an anti-parasitic drug already available around the world can kill the novel coronavirus grown in cell cultures within 48 hours, an advance that may lead to the development and trial of a new clinical therapy for COVID-19.
Background
According to the study, published in the journal Antiviral Research, the drug, Ivermectin, stopped the virus, SARS-CoV-2, from growing in cell culture within 48 hours.
Details
Scientists found out that a single dose could remove all viral RNA of COVID-19 within 48 hours and that even in the first 24 hours, there was already a significant reduction in it.

The scientists said Ivermectin is an approved anti-parasitic drug that has also been shown to be effective in vitro against a broad range of viruses including HIV, Dengue, Influenza and Zika virus.

Although the mechanism by which Ivermectin works on the virus is not known, the scientists said it is likely, based on its action in other viruses, that it works to stop the virus 'dampening down' the host cells' ability to clear it.

The scientists further cautioned that the use of Ivermectin to combat COVID-19 would depend on the results of future pre-clinical testing and ultimately clinical trials.

Ivermectin is an anti-parasitic drug used to treat certain parasitic roundworm infections. Curing roundworm infections can reduce the risk of developing a severe or life-threatening disease on people who has a weak immune system.

This anti-parasitic drug is under the class of drugs known as antihelmintic-a group of drugs that kills parasitic worms- that works by paralyzing and killing parasites.

But just like the other drugs, Ivermectin may show promise, but it also has its own side effects that could potentially harm rather than do good. More so, it should be verified if any of the available drugs can be used as a safe and effective treatment for COVID-19.