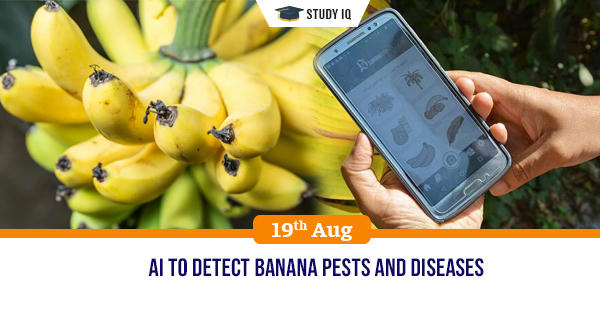 AI to detect banana pests and diseases
Date: 19 August 2019
Tags: Fourth Industrial Revolution
Issue
A new app has been developed which will make use of Artificial Intelligence to detect pests and diseases in Banana plants.
Background
Growing banana plant problem is easy but there are some issues that need to be considered. Many banana plants are susceptible to pests and diseases that may afflict it.
Details
The tool to distinguish various plant species, disease, fungus and other related features has been incorporated into an App called Tumaini, meaning hope in Swahili, and is being tested.

The developed new Artificial Intelligence system (AI) can look at photographs and tell what disease the plant has and also give recommendations and treatment options to the farmers. The results showed that the model was over 90% accurate.

When users take the photo, it gets uploaded to a global system for large-scale monitoring. Also, it is automatically GPS-tagged so we know what and where the problem is.

Yellow leaf spot

and Fusarium wilt are the major fungal diseases in India and farmers spend a lot of money on fungicides. Apart from the fungal disease, the viral disease such as Banana Bunchy top virus is a big problem in India.