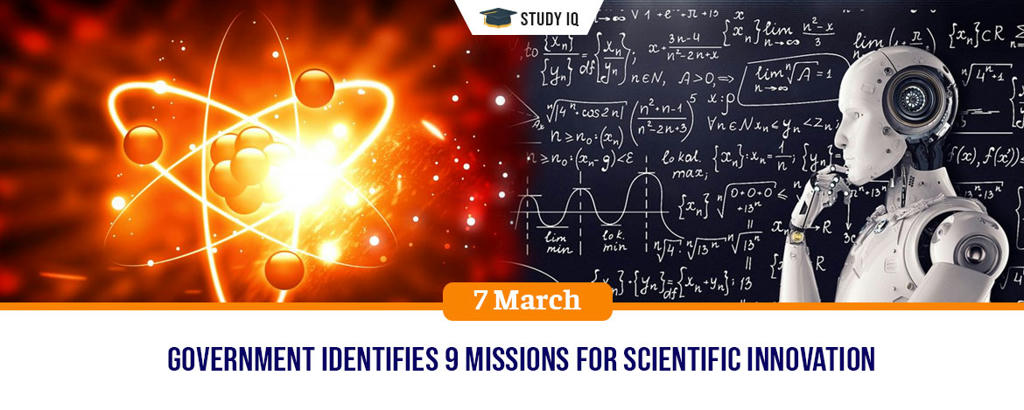 Government identifies 9 missions for scientific innovation
Date: 07 March 2019
Tags: IT, Mobile & Computers, Artificial Intelligence, Fourth Industrial Revolution
Government has identified nine missions and four key projects of national importance to address societal needs in areas such as health, education, data security, transportation, clean energy and agriculture.
These missions and key projects were identified by Prime Minister's Advisory Council on Science, Technology & Innovation. They are aimed at solving complex scientific problems in reasonable time-frame and bring fruits of scientific development to citizens' doorsteps through various innovations,
Each of these missions along with four projects will be led by nodal ministry which will implement it by engaging international and national institutional partners, scientists and industries.
Nine missions:
Quantum Frontier:

It will focus on network and data protection to enable robust cyber security system

Natural Language Translation:

It will provide access to scientific materials in native Indian language

Artificial Intelligence:

It will focus on use of intelligent computing system in areas such as healthcare, education, agriculture and transportation among others.

National Biodiversity:

It will include comprehensive documentation of India's biodiversity and mapping all lifeforms of the country.

Electric Vehicles:

It will aim to make EVs economically viable and scalable

Bio-Science for Human Health:

It aims at genomic study of humans to identify and unravel genetic basis and prevalence of rare and inherited diseases

Waste to Wealth:

It seeks to develop and deploy technology to treat waste to generate energy, recycle materials and extract wealth

Deep Ocean Exploration

: It will aim at exploring deep oceans for resources, climate change advisory services, offshore based desalination techniques and renewable energy generation among others

AGNIi-Accelerating Growth for New India's Innovations (AGNIi):

It will be for taking technologies to commercialization. Under it, efforts will be made to boost innovation ecosystem.
Four Projects are
Setting up research clusters

Establishing state-of-the -art 'Earth Museum'.

Conserving critical ecological lifeline of Brahmaputra river system.

Developing comprehensive web portal linking researchers with resources.
Prime Minister's Advisory Council on Science, Technology & Innovation (PM-STIAC)
It was constituted in August 2018 headed by Principal Scientific Advisor to government K Vijay Raghavan.
Mandate: (i) advise PM on science, technology, as well as innovation. (ii) coordinate implementation of PMs scientific vision. (iii) Aid in formulation and timely implementation of major science and technology missions and evolve interdisciplinary technology development programmes. (iv) advise government on developing 'Clusters of Excellence' in science including city-based R&D clusters. (vi) Bring together all science and technology partners from academia and institutes to industries near such centres or cities.