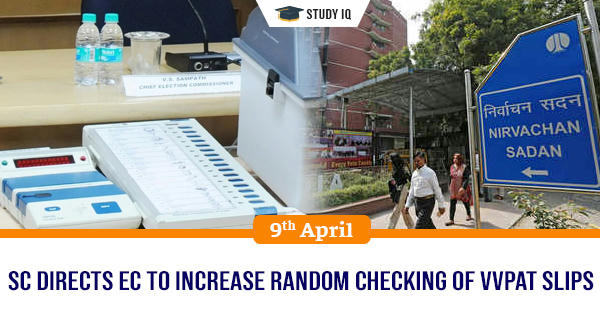 SC directs EC to increase random checking of VVPAT slips
Date: 09 April 2019
Tags: Judiciary & Judgments
Supreme Court has directed Election Commission of India (ECI) to increase random matching of Voter-verified paper audit trail (VVPAT) machine slips with Electronic Voting Machine (EVM) results from one to five polling booths in each assembly segment for the multiphase Lok Sabha polls. It held that this move will bring more "credibility" and "integrity" to the electoral process.
Petition
SC gave this order on petition filed by 21 Opposition leaders led by Andhra Pradesh Chief Minister and TDP chief N Chandrababu Naidu. It had demanded counting of at least 50% of VVPAT machine slips per assembly segment to match the results of EVM. It also had mentioned that existing guideline issued by ECI makes VVPAT completely ineffective and merely ornamental in nature. It defeats the entire purpose of introducing VVPAT and renders judgement and directions passed by apex completely otiose.
VVPAT Voter-verified paper audit trail (VVPAT)
It is device which dispenses slip with symbol of party for which person has voted for. The slip appears on small window for 7 seconds and then drops in box. The voter cannot take this slip at home. The VVPAT slip displays candidate's serial number, Name of the candidate and Corresponding symbol for whom the vote has been cast. VVPAT machines will be used for the first time in all polling booths along with EVMs in 2019 Lok Sabha elections. They were deployed in some parliamentary and assembly bypolls.
Previous EC Guideline
Currently, EC was following one EVM per assembly segment guidelines wherein there was random counting of VVPAT machines in one booth of each assembly segment. It was decided by draw of lots or lottery system in the presence of candidates to select random booth.