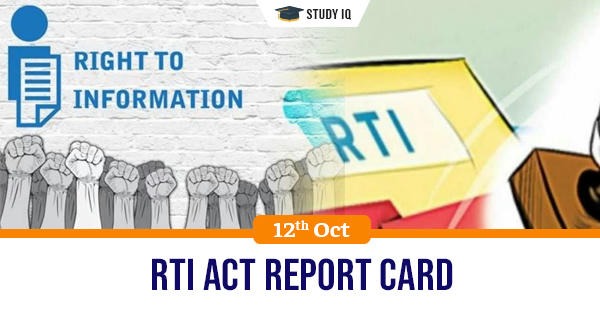 RTI Act report card
Date: 12 October 2019
Tags: Commissions & Committees
Issue
A report card analysing the performance showed that government officials face hardly any punishment for violating the law by denying applicants the legitimate information sought by them.
Background
The 'Report Card on the Performance of Information Commissions in India' was prepared by the Satark Nagrik Sangathan and the Centre for Equity Studies.
Details
Penalties worth 3.15 crore were imposed on officials. The State Commissions of Tamil Nadu, Sikkim, Mizoram and Tripura did not impose penalties in any cases.

The commissions also have the power to recommend disciplinary action against officials for persistent violations of the RTI Act. Only 10 states invoked these powers.
Implications
The failure of the commissions to impose penalties in clearly deserving cases sends a signal to the PIOs [Public Information Officers] that violating the law will not invite any serious consequences.
RTI act
Right to Information (RTI) is act of the Parliament of India to provide for setting out the practical regime of the right to information for citizens and replaces the erstwhile Freedom of information Act, 2002.

Under the provisions of the Act, any citizen of India may request information from a "public authority" (a body of Government or "instrumentality of State") which is required to reply expeditiously or within thirty days.
The Right to information in India is governed by two major bodies:
Central Information Commission (CIC)
Chief Information commissioner who heads all the central departments and ministries- with their own public Information officers (PIO)s. CICs are directly under the President of India.
State Information Commissions (SIC)
State Public Information Officers or SPIOs head over all the state department and ministries. The SPIO office is directly under the corresponding State Governor.
State and Central Information Commissions are independent bodies and Central Information Commission has no jurisdiction over the State Information Commission
Central Information Commission
The Central Information Commission (CIC) set up under the Right to Information Act is the authorised body, established in 2005, under the Government of India.

It acts upon complaints from those individuals who have not been able to submit information requests to a Central Public Information Officer or State Public Information Officer.

The Commission includes 1 Chief Information Commissioner (CIC) and not more than 10 Information Commissioners (IC) who are appointed by the President of India.

CIC and members are appointed by the President of India on the recommendation of a committee consisting of Prime Minister as Chairperson, the Leader of Opposition in the Lok Sabha, a Union Cabinet Minister to be nominated by the Prime Minister.