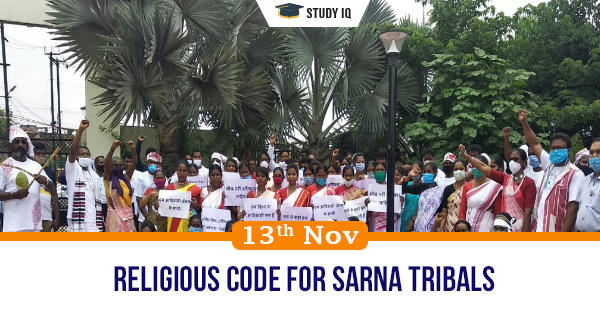 Religious code for Sarna tribals
Date: 13 November 2020
Tags: Miscellaneous
Issue
The Jharkhand government passed a resolution to send the Centre a letter to recognise Sarna religion and include it as a separate code in the Census of 2021.
Background
For the last many years several protests and meetings have been held by various tribal groups in Jharkhand and elsewhere pushing the same demand.
Details
It is believed that 50 lakhs tribal in the entire country put their religion as 'Sarna' in the 2011 census, although it was not a code.

The followers of Sarna faith believe pray to nature. The holy grail of the faith is "Jal, Jungle, Zameen" and its followers pray to the trees and hills while believing in protecting the forest areas.

Many of the tribals who follow this faith have later converted to Christianity—the state has more than 4% Christians most of whom are tribals.

Some who still follow the Sarna faith believe the converted tribals are taking the benefits of reservation as a minority as well as the benefits given to Schedule Tribes.

The population of tribals in the state had declined from the 38.3 percent in 1931 to 26.02 percent in 2011.

The protection of their language and history is an important aspect with tribals. Between 1871 and 1951, the tribals had a different code.
Major tribes of Jharkhand
Munda, Santhal, Oraon, Kharia, Gond, Kol, Kanwar, Savar, Asur, Baiga, Banjara, Bathudi, Bedia, Binjhia, Birhor, Birjia, Chero, Chick-Baraik, Gorait, Ho, Karmali, Kharwar, Khond, Kisan, Kora, Korwa, Lohra, Mahli, Mal-Paharia, Parhaiya