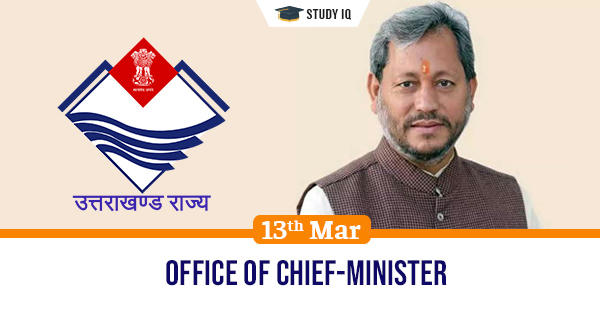 Office of Chief-Minister
Date: 13 March 2021
Tags: Constitution
Issue
Tirath Singh Rawat has taken oath as the Chief Minister of Uttarakhand. He will replace Trivendra Singh Rawat.
Details
The chief Minister is the de facto head of executive of a state. He is the leader with majority support in the state's legislature.

Article 164 says that he chief Minister will be appointed by the governor. There are no particular conditions for appointment except that he should command a majority.

The chief Minister holds office till the pleasure of the governor.
Eligibility
He should be a citizen of India.

He should be of the age of 25 years or more.

He should be member of the state legislature.

A non-member can be appointed a chief Minister but he has to get elected within six months.
Vote of confidence
After being appointed the chief minister, the chief minister has to seek vote of confidence from lower house of state assembly.
Resignation
The Chief Minister can resign from his position by writing to the governor. The council of ministers is automatically dissolved in case the chief minister resigns from office.

The chief minister has to resign if he loses confidence of the lower house of the state legislature.
Power and functions
He can advise governor on appointing any member as a minister.

He can ask a minister to resign in case of differences.

He has to communicate with the governors all decisions of the council of ministers.

The chief minister advises governor regarding appointment of important posts such as Attorney General of State, State Public Service Commissioner, State Election Commissioner etc.

He can advise governor on dissolution of state assembly. He also advises on summoning and prorogation of assembly session from time to time.