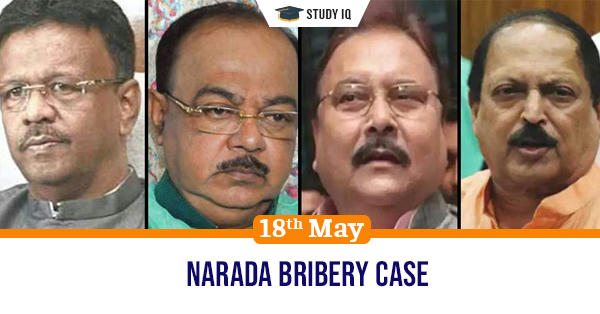 Narada bribery case
Date: 18 May 2021
Tags: Miscellaneous
Issue
The Central Bureau of Investigation has arrested three West Bengal politicians in the multi-crore Narada bribery case.
Background
The arrest comes days after the governor had given his consent for filing charge sheet against the accused.
Details
The accused were ministers when a sting operation showed them accepting bribes. The Calcutta High court had asked for CBI investigation in the case.

The sting was carried out by a former editor for Tehelka magazine, Mathew Samuel for over two years.

The video was posted on a private news portal known as Narada news. It took place just before 2016 Assembly polls in the state.
The sting operation
Samuel had started a fake company known as Impex Consultancy Solutions and approached several ministers and MPs with bribes for favours.

The leaders were captured accepting bribes in form of cash for giving unofficial favours for Impex Consultancy Solutions.

The owner of Tehelka and TMC Rajya Sabha MP, KD Singh had denied his involvement but was suspected to have supported the sting.
The investigation
The state government had initiated its own probe in the case against Samuel but was stayed since another agency was already handling it.

The Lok Sabha ethics committee also initiated a probe to check if the members were guilty of breach of privilege of the house.
Breach of privilege
Certain rights, immunities and exemptions are given to members Parliament as an institution and as well as individuals.

If these rights and immunities are violated, the offence is termed a breach of privilege.

The constitution has defined powers, privileges and immunities of Members of Parliament under Article 105.