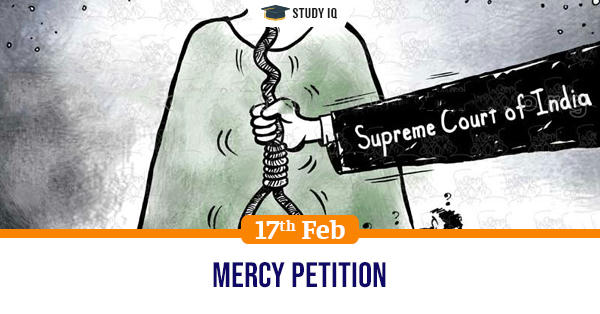 Mercy petition
Date: 17 February 2021
Tags: Constitution
Issue
Death row convict Shabnam has filed a mercy petition with the President of India. She could be the first woman to be hanged after Independence.
Background
The development takes place at a time when Mathura Jail is reportedly preparing to execute Shabnam. It is the only jail in the country where women can be hanged to death.
Details
As per the Constitutional framework in India, mercy petition to the President is the last constitutional resort a convict can take when he is sentenced by the court of law.

A convict can present a mercy petition to the President of India under Article 72 of the Constitution of India.

Similarly, the power to grant pardon is conferred upon the Governors of States under Article 161 of the Constitution of India.
Process of mercy petition
After extinguishing all the reliefs in the court of law, either the convict in person or his relative on his behalf may submit a written petition to the President.

The petitions are received by the President's secretariat on behalf of the President, which is then forwarded to the Ministry of Home Affairs for their comments and recommendations.

A convict under the sentence of death is allowed to make the petition within a period of seven days after the date on which the Superintendent of jail informs him about the dismissal of the appeal or special leave to appeal by the Supreme Court.

The Home Ministry in consultation with the concerned State Government discusses the merits of the petition.

After the consultation, recommendations are made by the Home Minister and then, the petition is sent back to the President for his decision.

Even though the President and Governor are the executive heads, but they cannot exercise their discretion with regard to their powers under Articles 72 and 161.

The President can either accept or reject the mercy plea as per the advice by the council of ministers. However, the Constitution doesn't provide for a specified time limit to accept/reject the mercy petition.