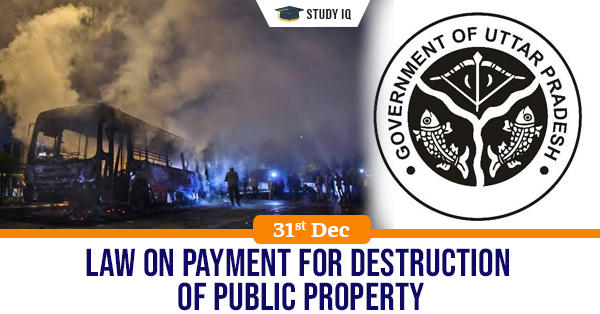 Law on Payment for destruction of public property
Date: 31 December 2019
Tags: Judiciary & Judgments
Issue
The Uttar Pradesh government has directed district administrations to serve notices on persons allegedly involved in arson and damage of public property, and direct them to pay a penalty.
Background
The quantum of the penalty is being determined according to the total cost of the damaged property. The protestors were found to have damaged public properties during the protest against the Citizenship Amendment Bill.
Details
The administration has said it derives such powers on the basis of an Allahabad High Court order of December 2, 2010 in Mohammad Shujauddin vs State of Uttar Pradesh.

It has said the police are empowered to take penal action under The Prevention of Damage to Public Property Act, 1984.

The High Court order, due to lacunae in the 1984 Act, has also empowered the civil administration to take action against the accused.

The High Court referred to a 2009 judgment of the Supreme Court relating to the destruction of public and private properties.

The Supreme Court had issued guidelines on the basis of recommendations made by two committees, headed by former Supreme Court Justice K T Thomas and senior advocate Fali Nariman.

The Nariman Committee's recommendations had dealt with extracting damages for destruction. Accepting the recommendations, the Supreme Court had said that the rioters would be made strictly liable for the damage, and compensation would be collected to "make good" the damage.
The High Court's judgement
As and when any incident of damage of public property takes place, if such agitation has been called at the "invitation of a political party or a sitting or former people's representative", a "report" shall be registered by the police against the political party/person by name.

A "concerned department, local body, public corporation", that is, the owner of the property, would assess the damage and shall file a claim for realization of such amount before a "competent authority".

There will be an "opportunity of hearing" against whom the claims is filed; and the competent authority is mandated to pass the "appropriate order" with a month after the hearing is complete.