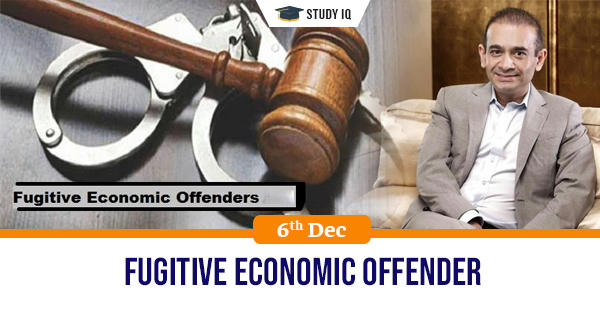 Fugitive Economic Offender
Date: 06 December 2019
Tags: Bills & Laws
Issue
A Mumbai PMLA judge declared jeweller Nirav Modi, key accused in the Punjab National Bank (PNB) fraud case, a "fugitive economic offender" (FEO) based on a plea by the Enforcement Directorate (ED).
Background
At the beginning of this year, a special court had declared liquor baron Vijay Mallya an FEO, also on a plea by the ED, the first such designation of an accused individual.
Details
An FEO is defined by The Fugitive Economic Offenders (FEO) Act, 2018 as "any individual against whom a warrant for arrest in relation to a scheduled offence has been issued by any court in India, who (i) has left India so as to avoid criminal prosecution; or (ii) being abroad, refuses to return to India to face criminal prosecution".

The FEO Act aims "to provide for measures to deter fugitive economic offenders from evading the process of law in India by staying outside the jurisdiction of Indian courts, to preserve the sanctity of the rule of law in India and for matters connected therewith or incidental thereto".

Economic offences relate to fraud, counterfeiting, money-laundering, tax evasion, etc. Among the laws available for prosecuting these offences are The Prevention of Money-Laundering Act (PMLA), 2002, The Benami Properties Transactions Act, 1988, and The Companies Act, 2013.
Need for the Act
The Finance Ministry released a draft Bill to address cases of high-value economic offenders fleeing the country to avoid prosecution.

It observed that existing civil and criminal laws did not contain specific provisions to deal with such offenders, and that a new legal framework was needed to prosecute them.

The ministry also argues that procedures under these laws were time-consuming, led to roadblocks in investigation and impacted the financial health of banks.
Process for declaring Economic Offender
Under the Act, an application must be filed in the special court asking that a particular individual may be declared an FEO.

The application must be accompanied by "reasons for the belief that an individual is a fugitive economic offender; any information available as to the whereabouts of the fugitive economic offender; a list of properties or the value of such properties believed to be the proceeds of crime", etc.

The special court may then issue notice to the individual to appear at a specified place, and drop the proceedings if the individual complies.

If the special court is satisfied that an individual is an FEO, it may, record so in an order, along with reasons. The court may then order the confiscation of the properties of the accused individual in India or abroad.