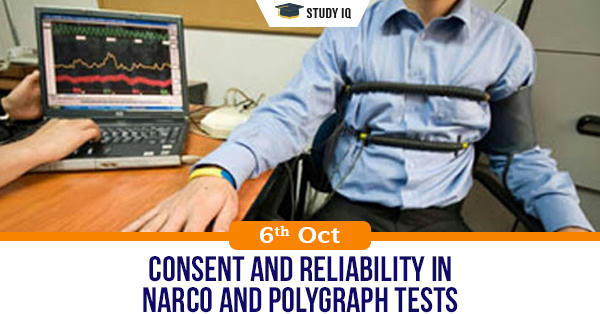 Consent and reliability in narco and polygraph tests
Date: 06 October 2020
Tags: Miscellaneous
Issue
A spokesperson for the Uttar Pradesh government said that polygraph and narcoanalysis tests would be conducted as part of the investigation into the Hathras murder case.
Background
Tests would be conducted on all people on the accused and victim side, apart from police officers involved in the case and other persons related to the case.
Details
A polygraph test is based on the assumption that physiological responses that are triggered when a person is lying are different from what they would be otherwise.

Instruments like cardio-cuffs or sensitive electrodes are attached to the person, and variables such as blood pressure, pulse, respiration, change in sweat gland activity, blood flow, etc., are measured as questions are put to them.

A numerical value is assigned to each response to conclude whether the person is telling the truth, is deceiving, or is uncertain.

Narcoanalysis, by contrast, involves the injection of a drug, sodium pentothal, which induces a hypnotic or sedated state in which the subject's imagination is neutralised, and they are expected to divulge information that is true.

The drug, referred to as "truth serum" in this context, was used in larger doses as anaesthesia during surgery, and is said to have been used during World War II for intelligence operations.

However, neither method has been proven scientifically to have a 100% success rate, and remain contentious in the medical field as well.
Consent and permission
In 'Selvi & Ors vs State of Karnataka & Anr' (2010), a Supreme Court Bench comprising Chief Justice of India K G Balakrishnan and Justices R V Raveendran and J M Panchal ruled that no lie detector tests should be administered "except on the basis of consent of the accused".

Those who volunteer must have access to a lawyer, and have the physical, emotional, and legal implications of the test explained to them by police and the lawyer.

The results of the tests cannot be considered to be "confessions", because those in a drugged-induced state cannot exercise a choice in answering questions that are put to them.

The court examined the scope of Article 20(3), the right against self-incrimination, which states that no accused can be compelled to be a witness against himself.