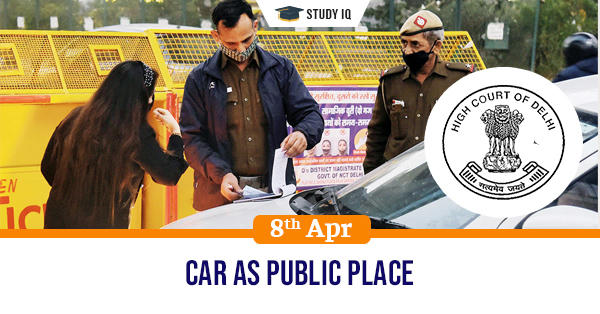 Car as public place
Date: 08 April 2021
Tags: Judiciary & Judgments
Issue
The Delhi High Court has upheld the decision of the government to make it compulsory for people to wear mask while travelling alone in car.
Background
The court was deciding on petitions which had challenged the decision stating that car was part of their private space where there was no need to wear mask.
Details
The court added that the vehicle with only a single occupant also would constitute as a public space and wearing mask would be necessary.

A person travelling in the car, even if alone could be exposed to the virus in various ways. He/she would have visited markets or purchased items from window making them vulnerable to infections.

It would also be a possibility that more than one person would have occupied the car prior to the time where the driver is alone.

This means that there would be high possibility that the driver could gain infection or could have passed on the infection to others.
Public place
The court used the definition of 'public place' in Motor Vehicle Act, The Immoral Traffic (Prevention) Act, The Code of Criminal Procedure, Prohibition of Smoking in Public Places Rules and The Narcotics Drugs and Psychotropic Substances Act.

It added that there were diverse ways in which public place has been defined and it cannot be defined universally.

Determining the ways in which coronavirus spread and infects individual has played a major role in coining a definition of public place.
The petition
The petitioners had filed the case against the government's decision of imposing fines for not wearing face masks while travelling alone in private cars. They had argued that a private car cannot be considered a public place.