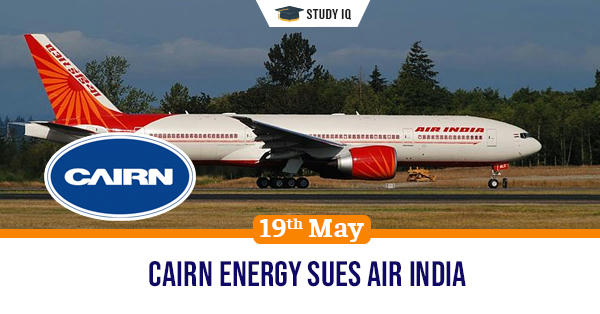 Cairn Energy sues Air India
Date: 19 May 2021
Tags: Judiciary & Judgments
Issue
Britain-based oil company, Cairn Energy is suing Air India for seizing its assets in order to recover its $ 1.2 billion arbitration award.
Background
The dispute between Cain Energy and Government of India was regarding a retrospective tax law that was won by the multi-national company.
Details
The International arbitral tribunal had said that Indian government had violated the terms under India-UK bilateral treaty and imposed unfair taxes on Cain Energy, leading to losses for the company.

The Tribunal directed the Indian government to $ 1.2 billion as compensation for the losses faced by the company. India has challenged the arbitration award in Netherlands.

The company has filed suit in New York as it has identified several assets of India from which it can recover its due.
Why Air India?
Cairn argues that Air India should be jointly held accountable for India's debts. It is responsible for several judgements related debts of the government.

The court will determine the economic control of the government over Air India to see if profits go to the government and also degree of control.
Retrospective tax issue
Cairn Energy decided to consolidate its India assets by transferring shares of Cairn India Holdings to Cairn India, which is from non-Indian companies to an Indian holding company.

Cairn India sold about 30 percent of its stake through IPO, while the rest was bought by mining conglomerate Vedanta Plc.

Cairn UK was not given the permission to transfer stakes of 9.8 percent in Cairn India to Vedanta as the tax officials demanded Rs 6000 crore as capital gains tax.

The Supreme Court said that such a measure did not attract taxes under Section 2(14) of the Income Tax Act. The government then retrospectively amended the law.

Cairn Energy argued that the retrospective tax law violated the UK-India Bilateral Investment Treaty, which had obligated India to treat investments from UK in fair manner.