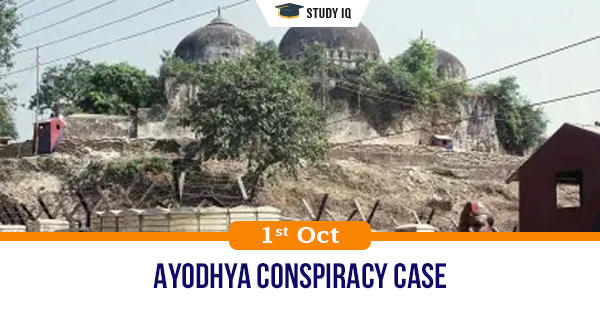 Ayodhya conspiracy case
Date: 01 October 2020
Tags: Judiciary & Judgments
Issue
A special CBI court in Lucknow has pronounced its judgment in the Babri Masjid demolition case and acquitted all the accused in the case.
Background
While the Supreme Court has delivered the final judgment in the Ayodhya title suit, this judgment will be the first in the nearly 28-year-old demolition case.
Details
After the demolition of the Babri Masjid on December 6, 1992, two separate cases were filed at Ram Janmabhoomi police station in Faizabad.

The FIR was filed against eight persons including senior BJP leaders — L K Advani, Murli Manohar Joshi, Ashok Singhal (now deceased), Giriraj Kishore (deceased), Vishnu Hari Dalmia (deceased), Vinay Katiyar, Uma Bharti, and Sadhvi Ritambhara.

This was under IPC sections 153-A, 153-B (imputations, assertions prejudicial to national integration) and 505 (statements conducing to public mischief).

Between December 6 and 21, police registered 47 more FIRs, mostly relating to assault on and looting of media persons during the demolition.

The state government initially assigned the case against unidentified kar sevaks to the Crime Branch's Criminal Investigation Department (CB-CID).

On December 12, 1992, the state sent a recommendation to the Centre for transfer of the investigation to the CBI, which lodged an FIR and began its investigation the following day.

In August 1993, the state government sent a recommendation for a CBI probe into the other 48 FIRs. The CBI was handed over all these cases.

In September 1997, the Lucknow court took cognisance of the CBI chargesheet, and ordered charges be framed against accused.

Summonses were issued. In its chargesheet, the CBI claimed it had evidence that the demolition was the fallout of a larger conspiracy. Charges under section 120-B IPC were added.

In May 2017, the Lucknow court ordered framing of charges against Advani, Joshi, Katiyar, and Bharti. Fresh charges were made out against the 13 against whom proceedings were dropped.

The recording of prosecution witness statements was completed in March this year. The court then began recording statements of the accused under Section 313 CrPC.